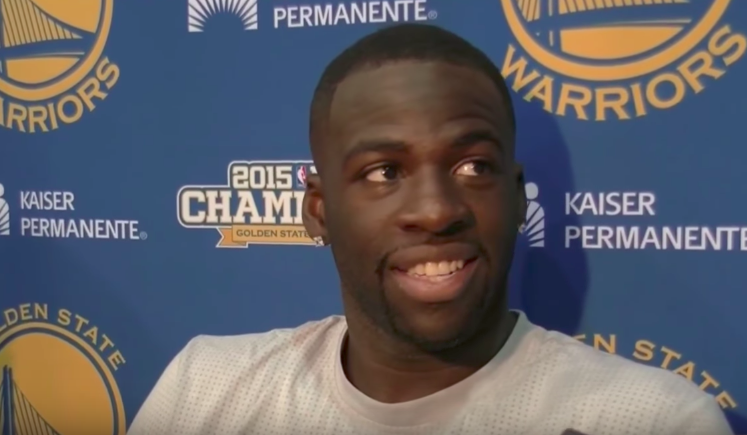 Draymond Green, star player for the NBA's Golden State Warriors, was sued for assault, battery, and other related claims, celebrity attorney Lisa Bloom confirmed at a press conference this morning.
The suit arose from a series of incidents that allegedly took place near Michigan State University last year.  At the conference this morning, plaintiffs Jermaine Edmonson and Bianca Williams, who are both represented by Bloom, claimed that Green and his entourage choked and punched both of them.  The two say they encountered Green at a bar in Michigan where Green bumped into Edmonson.  After chiding Green for not saying "excuse me", the situation became more intense as Green allegedly asked for Edmonson's name and said "I know n—–s like you."  A group of men that were with Green then allegedly choked Edmonson and his girlfriend Williams against a wall.  The next day, the two encountered Green at a restaurant near the Michigan State University campus, they say.  According to Edmonson, Green was not with the men from the previous night and Edmonson confronted Green for assaulting his girlfriend.  Green then allegedly punched Edmonson in the face and was arrested for the altercation, but the charges were later dropped after Green agreed to pay $560 as part of a plea deal.  Green and the Golden State Warriors also allegedly engaged in threats and cyberbullying against Edmonson.
"I think about what happened with Draymond every day.  I still feel his hand on my jaw," Edmonson said at the press conference. There are nights where I wake up crying.  I don't understand why my name has been turned into this joke."
No stranger to high-profile cases, Bloom is also representing comedian Kathy Griffin after her controversial Donald Trump photoshoot, and public figure Blac Chyna after her feud with ex-fiancé Rob Kardashian. Bloom's press statement asserted that she was "proud to represent the accusers as they demand accountability and an apology from Mr. Green, who has often been called a bully on and off the basketball court."
Green has not yet responded to the allegations.
[Image via Screengrab]
Have a tip we should know? [email protected]