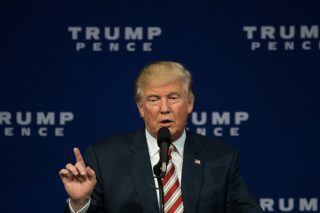 We're now up to six women who have formally accused Donald Trump of sexual assault. Jessica Leeds, Rachel Crooks, Mindy McGillvray, Cassandra Searles, Jill Harth, and "Jane Doe" have all come forward with accusations ranging from inappropriate touching to violent rape.  Whatever the truth of these women's allegations are (and for the record, Jason Miller, Senior Communications Advisor for the Trump campaign, has categorically denied these allegations on his candidate's behalf), this isn't a story that's likely to simply fade away.  Let's talk about what's legally significant about these allegations:
It's not beyond the realm of possibility that Donald Trump could be investigated and maybe even federally prosecuted for the alleged sexual assault of Jessica Leeds, which she says happened thirty years ago. There's no question that sexual assault cases are difficult to prove, even when victims themselves testify. But, at least with respect to Jessica Leeds's allegations, there is no legal bar to a prosecution of Trump. That's because, according to Ms. Leeds account in The New York Times, Trump assaulted her on an airplane. That's federal jurisdiction, people – and guess what? There's no federal statute of limitations for sexual assault. Under applicable federal law, "a person charged with … rape or sexual assault… may be tried and punished at any time without limitation. Of course, it's a long walk from an interview with the N.Y. Times to a grand jury – but I don't think I'm exaggerating when I say that there are plenty of prosecutors out there who'd love to be on the serving end of an indictment in this one.
Trump is due in federal court in New York City on December 16 (after the election) to begin litigation in the civil lawsuit that accused him of raping a 13 year-old girl in the 1990s. As part of the discovery for that lawsuit, if the case doesn't get dismissed, it's possible that Trump himself could be deposed, as well as many women with whom he has had contact over the years. What will happen as a result of Jane Doe v. Donald Trump and Jeffrey Epstein is anyone's guess, but there will definitely be some drama. For all Trump's finger-pointing at Bill Clinton, the Donald may find some very unwelcome similarities. In the 1990s, Paula Jones sued Governor Bill Clinton for sexual harassment; as part of that case, a then-President Clinton gave testimony denying that he had a sexual relationship with Monica Lewinsky. When that testimony was later revealed to have been perjurious, it led to a massive scandal and Clinton's impeachment. Donald Trump may find himself faced with a similar Sophie's Choice of testimony.
One of Trump's alleged victims has some pretty compelling evidence. Rachel Crooks told The New York Times that in 2005, Trump inappropriately touched her, and kissed her against her will. According to Ms. Crooks, just hours after being victimized by Donald Trump, she became hysterical when recounting the tale of her assault to her boyfriend, Clint Hackenburg. According to Mr. Hackenburg, he even remembered Ms. Crooks lamenting, 'I can't do anything to this guy, because he's Donald Trump.' There's an excellent chance that Mr. Hackenburg's testimony would be admissible in any lawsuit against Donald Trump as an exception to the hearsay rule; the fact that Ms. Crooks reported the alleged assault when it happened creates credibility in its timeliness, and that credibility won't be lost on any jury just as it isn't lost on the public.
We're living in a post-Cosby world that is still reeling from the victim's powerful statement in Brock Turner's rape prosecution. We've changed as a nation over the past few years – and although sexual assault often still goes unpunished, we're becoming more aware of both the seriousness and the pervasiveness of victimization of women. Not only are we more outraged as a society over criminals acting with entitlement, but we are also more aware of the factors that contribute to their proceeding with perceived impunity. In the Bill Cosby scandal, we have seen one of our American heroes suffer a remarkable fall from grace; it's been painful to watch, but as a result, we have a far clearer understanding of how fame and power assist predators in sexually victimizing women. It was difficult to imagine when the predator was Heathcliff Huxtable, a lovable and funny family man with a wholesome image. It's a lot easier to believe that an egomaniacal bully acted "like an octopus" when, just a week ago, we heard him basically  admit to sexual assault on tape.
—-
This is an opinion piece.  The views expressed are just those of the author.
Follow Elura on Twitter @elurananos
This is an opinion piece. The views expressed in this article are those of just the author.
Elura Nanos - CEO, Lawyer Up; Columnist & Host, Law & Crime