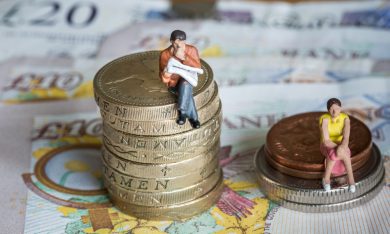 A new study reportedly shows that female law partners receive approximately 44% less in compensation than male law partners.
According to Law.com, a biannual partner compensation survey published by Major, Lindsey & Africa shows male partners receive $949,000 in compensation compared to $659,000 for women.
However, this does not necessarily mean the disparity is the result of some nefarious plot to keep women down.
The author of the study, Jeffrey Lowe, explained to the legal website the disparity is largely due to men reporting an average origination of $2.59 million, whereas the average origination reported by women was only $1.73 million.  Though, the origination numbers for women reflect a 40% increase over the last survey taken two years ago.
"That's the crux of the issue: Why are men generating more business than women?" Lowe explained. "Is there some boys club aspect or not?"
Lowe also said the disparity may be explained, in part, by differences in equity and non-equity partnership.  The survey showed equity partners received about three times more in compensation than non-equity partners.  Other studies have shown that women only account for 17% of equity partners in the largest law firms in the United States.
At the end of the day, Lowe said there is reason to be optimistic about the future because more firms are starting to view pay equity as a serious problem.
"Many firms want to address it," Lowe said, "but when you try to address it with them it becomes a question of, 'How much business do [these lawyers] have?'"
[image via ian johnston/shutterstock]
Have a tip we should know? [email protected]