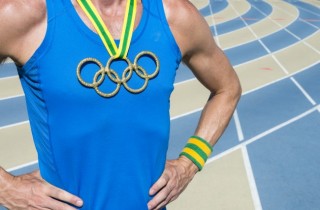 Nico Hines, a reporter for The Daily Beast, has gotten tremendous flack for his ill-advised piece this week about competitors' use of Grindr at the Rio Olympics. That's probably because when a straight, married man poses as a member of the LGBT community for the purpose of writing a salacious story about the purported underbelly of a beloved athletic event, it's as obnoxious as it is dangerous. And yes, making a Grindr profile constituted "posing" as a gay man – because Grindr is a gay social networking site. So let's not even make any argument on that point.
I get that all things Olympics are matters of public interest. We're all clamoring to see what the medalists are wearing, eating, and doing in their free time. In our sex-obsessed and sports-obsessed world, it's hardly a stretch to deem Olympic gay sex "newsworthy"– even if it has been going on since guys were competing in Athens.   In what I know is a glass-is-half-full thought, I even think there's a way that such stories are good for us as a nation. When we see that gayness isn't just for theater types and fashion designers, and that our strong, masculine, heroes are part of the group too – it help us all.
Still, none of that excuses what Hines has done, because words have consequences. Often, the personal consequences of a misdeed can be somewhat quantified by using legal frameworks.   Intentional Infliction of Emotional Distress ("IIED"), for example, would work well to describe what Hines accomplished when he outed gay athletes. Under traditional American tort law, an individual makes out a prima facie case of IIED when he or she alleges that: 1) someone engaged in extreme and outrageous conduct; 2) that conduct was engaged in purposely, even if the results were unintended; 3) the conduct resulted in extreme distress on the part of the victim. Publicizing private information about the sex lives of athletes (many who hail from cultures that severely oppress, or even criminally punish homosexuality) is about as "extreme and outrageous" as it gets.  Hines wrote his article on purpose, disregarding the predictable fallout.  Likely consequences range from the financial to the emotional to the physical and even to the criminal. And while there are surely issues that could adversely affect the outcome of such a lawsuit (jurisdiction, just to name one), my underlying point stands. Words are powerful. They will be misunderstood and they will be misused.   No one knows these truths better than professional journalists – who cannot credibly argue an inability to foresee consequences.
Olympic athletes are not fair game simply because they perform in the public eye. Even celebrities have the right to keep private details private, and no journalist has the right to expose a person to serious risk based on a desire to respond to public thirst for gossip.
Have a tip we should know? [email protected]
Elura Nanos - Columnist & Trial Analyst, Law & Crime; CEO Lawyer Up