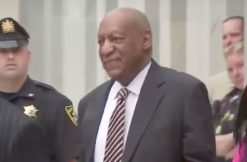 NORRISTOWN, Pa. (AP) — Bill Cosby's sexual assault trial in Pennsylvania has moved swiftly and produced gripping testimony along with moments of levity. The case could reach the jury early this week.
The aging Hollywood icon is charged with drugging and molesting a young woman he met through Temple University in 2004. About 60 other women accuse Cosby of similar misconduct.
Jurors have heard Cosby's testimony in the accuser's lawsuit about giving women wine, pills and at least once quaaludes before sex. This past week, prosecutors called 12 witnesses before resting Friday.
The trial is gripping, but has produced a few laughs. Cosby himself joined in when the judge pounded a comically large gavel to tease jurors who asked if he had one.
The defense starts its case Monday. Most court observers doubt Cosby will testify.
[Screengrab via Inside Edition]
Have a tip we should know? [email protected]