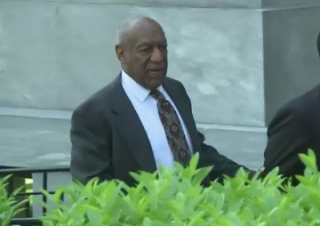 Update 1:14 p.m.
Bill Cosby was ordered to stand trial in the sexual assault case. His accuser Constand did not testify during the preliminary hearing.
---
A pretrial hearing could be the setting for an unpleasant reunion on Tuesday, as Bill Cosby is set to appear in court for a criminal case involving an alleged sexual assault against a former Temple University staff member, the New York Times reported.
Andrea Constand claims that Cosby was her mentor back in 2004, when he allegedly gave her pills and sexually assaulted her at the comedian's Philadelphia home. The last time Constand and Cosby were in the same place was at a deposition for a civil lawsuit that she filed against him. They agreed to a settlement in 2006.
Cosby denies the charges, but is required to be at the hearing, although the Times says it is unlikely he will testify. Constand currently lives in Canada, and it is unknown at this time if she will appear in court. If she does, she may take the stand as a witness for the prosecution. Prosecutors are trying to demonstrate that they have enough evidence to go to trial. Of course if she does testify, Cosby's lawyers will be permitted to question her. If Constand does not appear, prosecutors will be able to use a statement she gave to police in 2005.
Cosby is facing three counts of aggravated indecent assault charges, and each one is punishable with up to 10 years in prison and a $25,000 fine.
Have a tip we should know? [email protected]