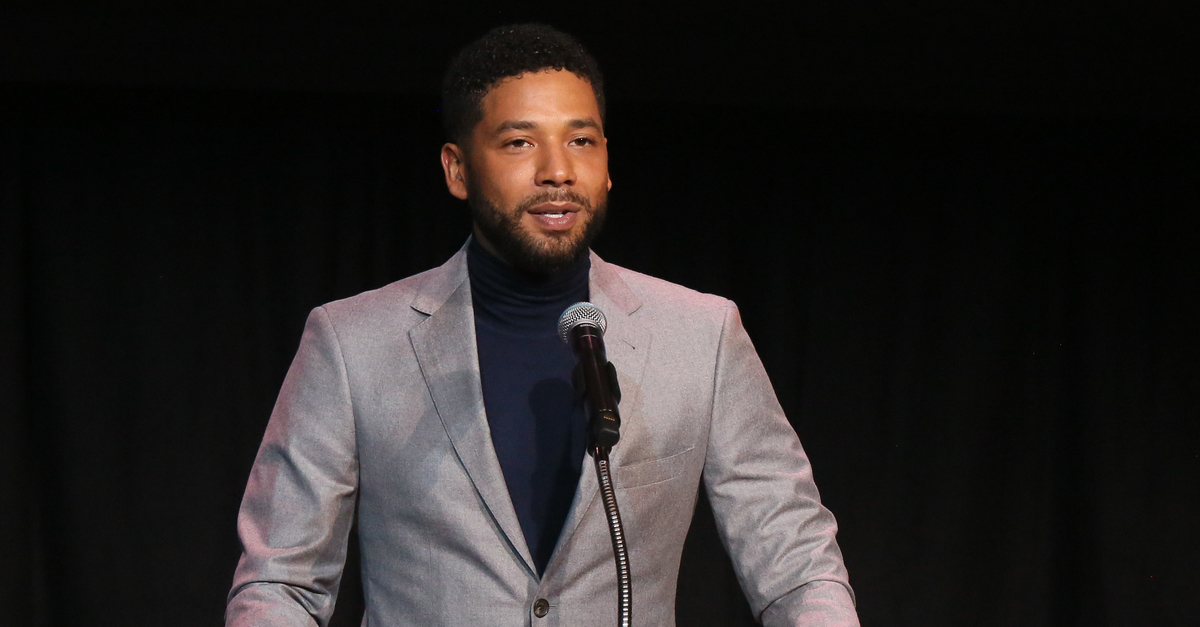 Empire star Jussie Smollett was hospitalized Tuesday after reportedly being attacked by two assailants who shouted racist and homophobic slurs at him before tying a noose around his neck.
The incident is being investigated as a hate crime by the Chicago Police Department (CPD), according to CPD spokesperson Anthony Guglielmi.
"Overnight, the Chicago Police Department received a report of a possible racially-charged assault and battery involving a cast member of the television show Empire," a Tuesday statement released by Gugliemi noted. "Given the severity of the allegations, we are taking this investigation very seriously and treating it as a possible hate crime. Detectives are currently working to gather video, identify potential witnesses and establish an investigative timeline."
According to TMZ, Smollett was attacked by two supporters of President Donald Trump early Tuesday morning while he taking a walk through the Windy City.
Per TMZ's report:
Sources directly connected to Jussie tell TMZ, the actor arrived in Chicago from New York late Monday, and at around 2 AM he was hungry and went to a Subway. We're told when he walked out, someone yelled, 'Aren't you that f***ot 'Empire' n*****?'
The two men also allegedly shouted "This is MAGA country" as they beat him and poured bleach on Smollett's face before securing the rope around his neck. Police told the Daily Beast there was "no report of that being said." Smollett reportedly fought back but sustained a fractured rib as a result of the attack. The men were both described as white and wearing black ski masks. They are said to have fled the scene sometime after tying the noose, according to an email from the CPD.
"[T]wo unknown offenders approached him and gained his attention by yelling out racial and homophobic slurs towards him," the email noted. "The offenders began to batter the victim with their hands about the face and poured an unknown chemical substance on the victim."
Law&Crime reached out to the CPD for additional comment and clarification on this story. A spokesperson, however, said that police were "unable to confirm" the alleged political affiliations of the two men because they had "no evidence of that occurring."
CPD dispatch audio immediately after the incident notes that Smollett refused Emergency Medical Services. The actor then transported himself to Northwestern Memorial Hospital. He is currently in good condition.
Iimage via Gabriel Olsen/Getty Images]
Have a tip we should know? [email protected]