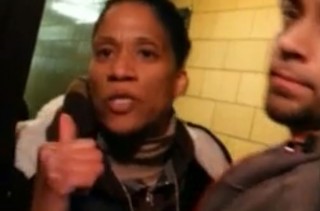 NYPD Sgt. Diana Pichardo is in the middle of disciplinary proceedings after being caught accosting a bystander who was recording an incident from inside his apartment, then grabbing the man's phone and searching his home, the New York Daily News reported.
David Rivera heard a commotion outside his apartment, and opened his door to see what was going on. He then took out his cell phone and began recording a physical confrontation involving police officers. The cops didn't take too kindly to being caught on video, and as the footage shows, they went over to Rivera, standing in his doorway. Soon after, Sgt. Pichardo arrived, screaming at Rivera, first asking about his relationship to the people police had been dealing with, then pointing her gun and grabbing his phone.
Warning: Strong language.

What Pichardo and the other cops didn't realize, however, was that Rivera professionally installs security systems, and had a camera inside his apartment that was recording at the time. Footage from that camera showed police busting into Rivera's apartment and searching it. Rivera was taken outside of his apartment and handcuffed. He then spent 43 hours in police custody before being let go after the Brooklyn District Attorney's Office decided not to prosecute him.
Rivera filed a report with the Civilian Complaint Review Board, saying that Pichardo drew her gun on him and that she and other officers did not have his consent when they searched his apartment. The CCRB supported his claims about the incident, which took place back in March 2015, and Pichardo is currently facing disciplinary measures. Rivera's attorney, Jason Leventhal, plans on filing a federal lawsuit over the incident this week. "The officers were legally arresting the men who were fighting with them, but it was clearly unlawful when officers grabbed Mr. Rivera's cell phone, arrested him, and entered and searched his apartment," Leventhal told the Daily News.
This is not the first time that Pichardo, who has been a police officer for 13 years, has been in trouble. Court records show that she has been a defendant in 20 federal lawsuits, with the city of New York paying out close to $400,000 in settlements.
Have a tip we should know? [email protected]