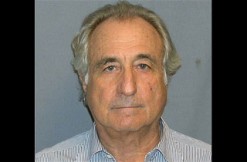 Disgraced investment wizard Bernie Madoff apparently saw the new miniseries based on his life, and he is not happy with it. This was probably inevitable. In a letter sent to NBC, Madoff writes that the ABC series called, uh, Madoff is full of lies about him and his family.
"No, I have NEVER slapped my son Mark [Madoff]," Bernie writes. (His son died by suicide in 2010.) And he writes his wife Ruth Madoff was "never an officer in my Investment firm."
Yeah, how did those TV bigwigs come up with that last detail?…On second thought, she called herself the director of Bernard L. Madoff Investment Securities in a 1996 cookbook she co-wrote. Maybe that's how.
But we digress. Back to the review of the miniseries. Among other things, he defended his brother Peter Madoff against an unflattering depiction on the show, called one treasurer a "stalker," and said the show misrepresented his parents' 1960 withdrawal of their SEC registration.
"Yes I made a disasterous [sic] business mistake that caused unforgiveable pain to my family,friends [sic] and clients,and [sic] will continue to do everything in my power to recover their lost investment principal," he wrote in closing.
Madoff, former chairman of NASDAQ and investment "wizard," pleaded guilty to 11 charges (fraud, perjury, more fraud…) in 2009, and admitted to stealing $17.5 billion from investors. He was sentenced to 150 years in federal prison, and to being played by Richard Dreyfuss in the miniseries.
[h/t Business Insider]
–
Follow Alberto Luperon on Twitter (@Alberto Luperon)
Have a tip we should know? [email protected]