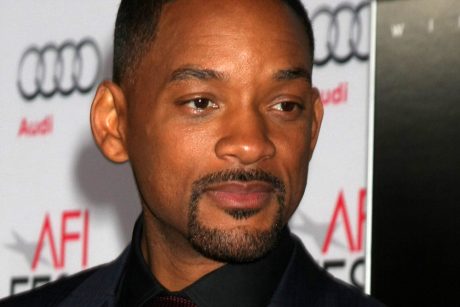 Convicted abortion doctor Kermit Gosnell reportedly wrote a letter to actor Will Smith that asked for legal help and claimed the movie star never would've made it to the big time without him.
The Daily Mail obtained a copy of the letter written by the notorious abortion doctor from prison in which he claims to have worked closely with Smith's grandmother during his residency at Thomas Jefferson University Hospital in Philadelphia.  Smith's grandmother, Helen Bright, reportedly worked as a nurse at the same hospital.  Gosnell also claims that he delivered the now-famous actor back in 1968 because Smith's mother's regular doctor was stuck in traffic when she went into labor.  The convicted doctor says Smith's grandmother called him into the delivery room to preside over the birth of her grandson.
"I'm fond of asserting that there could never be a Men in Black if I had dropped you on your head," Gosnell wrote to the mega-star actor, according to a copy of the letter published online.
The news outlet claims to have obtained the letter from the author of an upcoming book about Gosnell called The Untold Story of America's Most Prolific Serial Killer.  The book's author said he has no reason not to believe Gosnell because everything else he said in the book was fact checked and turned out to be true.
"Everything he told us for the book checks out," the author said. "He has a huge memory for details."
However, the author also claimed that Gosnell has extreme narcissistic tendencies.
In the letter, Gosnell also claims that Smith's grandmother would've supported his cause.
"Perhaps my only credential of importance is that Mrs. Bright would have been one of my most fervent advocates . . .  Mrs. Bright would have professed that I was a minority physician targeted for political gain, not a media monster," the letter states. "And she may have agreed with my perspective that there are underlying foundations beyond sanctity for life."
Gosnell was convicted in 2013 of three counts of first-degree murder after a jury found he killed three newborn babies that were alive outside the womb after attempted abortion procedures.  The original investigation into Gosnell's abortion practice was started after a woman died in his clinic while undergoing a botched procedure in 2009.  He is now serving a life-sentence without the possibility of parole.
The convicted doctor did not start his abortion clinic until well after Smith was born and he is seemingly hopeful the actor will take up his cause now that Smith expressed an interest in politics during the promotion of his films in recent years.
Smith had not replied to requests for comment by the time the story was published.
[image via Helga Esteb/shutterstock]
Have a tip we should know? [email protected]