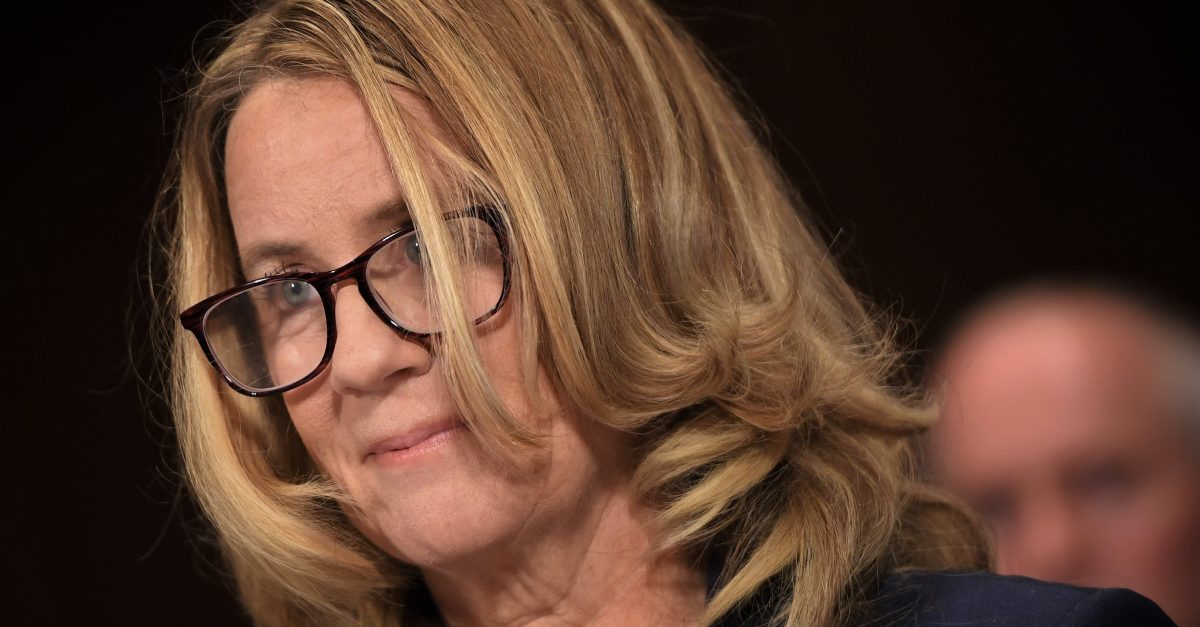 The attorneys who represented Dr. Christine Blasey Ford when she brought sexual assault allegations against Supreme Court Justice Brett Kavanaugh during his confirmation process are now facing complaints with the D.C. bar over their work on Ford's behalf.
Conservative watchdog group Judicial Watch announced on Friday that they filed the complaints against Debra Katz, Lisa Banks, and Michael Bromwich with the Board of Professional Responsibility of the District of Columbia Court.
The complaint, which was in the form of a letter to the Board's Office of Disciplinary Counsel, accused Ford's legal team of violating ethics rules by not informing Ford of overtures made by Senate Judiciary Committee Chairman Sen. Charles Grassley (R-Iowa).
During her testimony before the Senate Judiciary Committee, Ford said she went to Washington, D.C. despite a fear of flying.
"I was hoping that they would come to me, but then I realized that was an unrealistic request," she said, apparently not realizing that Grassley had already offered to do exactly that.
In a letter to Ford's attorneys, Grassley stated that he wanted to set up an interview with Ford that could be an open or closed hearing, or even a closed interview with staff, which could be done wherever she chose, or over the phone. According to Judicial Watch's complaint, Grassley didn't receive a response to this, so he reiterated the offer, saying, "my staff would still welcome the opportunity to speak with Dr. Ford at a time and place convenient to her."
The complaint recalls that when asked if she was aware of that offer, Ford said before the Senate Judiciary Committee:
I wasn't clear on what the offer was. If you were going to come out to see me, I would have happily hosted you and had you – had been happy to speak with you out there. I just did not – it wasn't clear to me that that was the case.
The watchdog organization alleges that Ford's attorneys never relayed the offer to her, which they say was in violation of the D.C. Rules of Professional Conduct. Specifically, the complaint refers to Rule 1.4(a), which says:
A lawyer shall keep a client reasonably informed about the status of a matter and promptly comply with reasonable requests for information."
It also brings up Rule 1.4(b), which says:
A lawyer shall explain a matter to the extent reasonably necessary to permit the client to make informed decisions regarding the representation.
The complaint, sent by Judicial Watch president Thomas Fitton, alleges that this was possibly done intentionally in order to benefit Democrats who wanted a public hearing.
"It appears likely that they knowingly subordinated their client's interest in avoiding the publicity of a Senate hearing and avoiding travel to Washington, D.C. to the desire of Democratic Senators on the Committee to have such a hearing take place in Washington, D.C.," Fitton said. Senator Lindsey Graham made a similar implication during the Senate Judiciary Committee hearing, accusing Fords's legal team of intentionally keeping her in the dark.
Katz, Banks, and Bromwich denied wrongdoing. They said in a joint statement sent to Law&Crime:
We have reviewed the disciplinary complaint filed by Judicial Watch with the DC Court of Appeals. It is a shameful effort to politicize the bar disciplinary process. The claim that we failed to advise Dr. Christine Blasey Ford of the various options available to her in connection with her allegations that Judge — now Justice — Brett Kavanaugh sexually assaulted her in the early 1980s is completely false and without merit. Dr. Ford was advised of all of her options and made her decisions based on the information we provided her. We were never told that Senator Grassley was willing personally to fly to California to meet with Dr. Ford, and that is how she understood his ambiguous question at the hearing. The suggestion that we concealed relevant information from her, or manipulated her into doing something that was contrary to her wishes, is utterly false. We will be seeking the equivalent of Rule 11 disciplinary sanctions against Judicial Watch.
Note: The article has been updated with a statement from Katz, Banks, and Bromwich.
[Image via SAUL LOEB/AFP/Getty Images]
Have a tip we should know? [email protected]