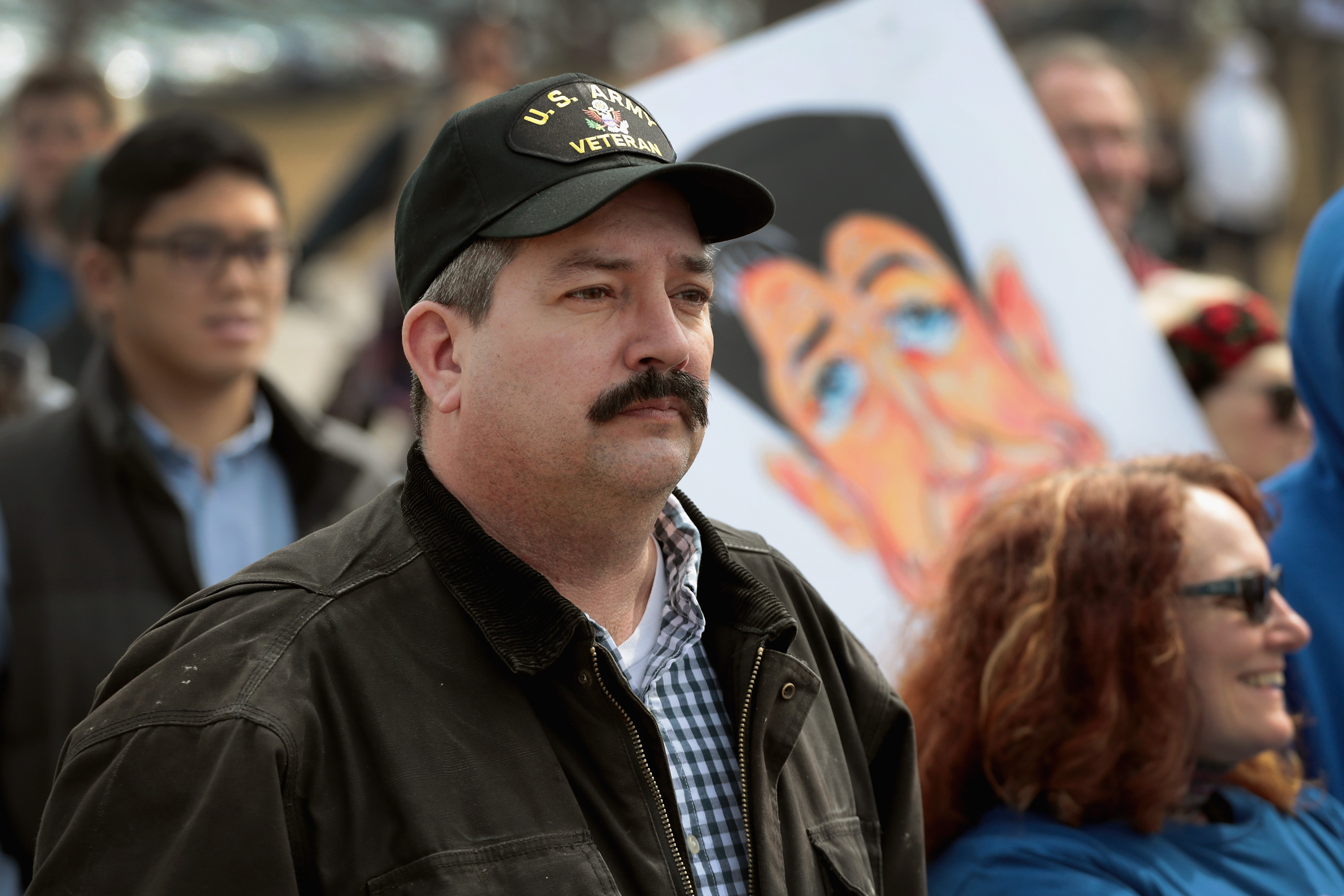 Congressional uber-hopeful Randy Bryce confirmed that he and his potential colleagues would attempt to impeach President Donald Trump were the Democratic Party to retake the House of Representatives following the 2018 midterm elections.
Bryce made the confirmation in a tweet sent at 8:58 a.m. on Monday. In his tweet, Bryce linked to–and pithily remarked upon–an article in The Hill titled "Trump: If Dems win in 2018 midterms, they'll impeach me." Bryce's brief caption simply reads:
Correct.
Correcthttps://t.co/ZAw3gzVf1b

— Randy Bryce (@IronStache) April 30, 2018
The linked-to article contains a video clip of Trump's Saturday speech at a campaign rally in Michigan. In the video, Trump says:
We have to keep the House because if we listen to Maxine Waters, she's going around saying 'We will impeach him, we will impeach him!' Then people said, 'But he hasn't done anything wrong.' 'Oh, that doesn't matter! We will impeach the president.'
Bryce's early-morning Twitter admission is likely to fuel an increasingly voluble right-wing reaction to the potential for a much-ballyhooed "Blue Wave"–a term that's gained some currency as of late. Many indications suggest Democrats are poised to thoroughly drub their GOP counterparts during the quickly-approaching midterms.
Democrats have eked out a series of wins in heavily-Republican territory as of late–or held Republican candidates to razor-thin margins of victory in areas that conservative candidates typically could expect to win by high double-digits.
On March 13, Democrat and now-Congressman Conor Lamb took out Republican Rick Saccone in a district that voted for Trump by nearly 20 points in 2016. On April 24, Republican Debbie Lesko barely managed a victory against Democrat Hiral Tipernini–in a district that went for Trump by 21 points.
Though Democratic victories have been less-than-blowout material (or purely moral), the extent to which Democrats have cut into the GOP's share of the vote in nearly every electoral contest post-Trump should offer the Republican Party some pause.
Additionally, confirmation of an impeachment plan from Bryce–a progressive, Bernie Sanders-style Democrat with a massive war chest who has somehow managed to make himself palatable to his party's centrist wing–could suggest the idea of impeaching Trump is gaining traction among congressional Democrats. At the very least, it's likely to be an idea endorsed by more and more progressive challengers.
Law&Crime reached out to the Democratic Congressional Campaign Committee and the Randy Bryce campaign for comment on this story, but no response was forthcoming at the time of publication.
[image via Scott Olson/Getty Images]
Follow Colin Kalmbacher on Twitter: @colinkalmbacher
Have a tip we should know? [email protected]