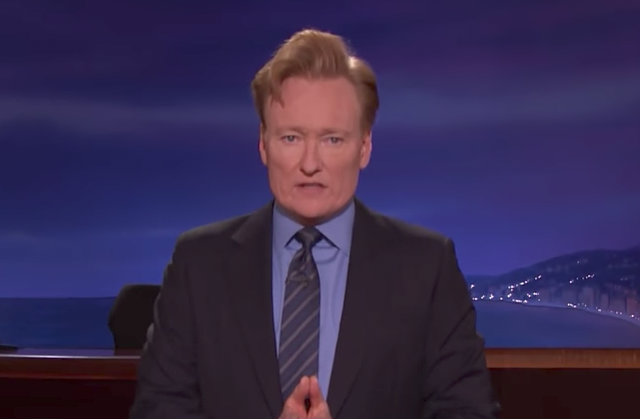 On Friday, the plaintiff in a joke-theft lawsuit against talk show host Conan O'Brien won an important victory. A federal judge in California ruled that three of Robert Alexander Kaseberg's claims were strong enough to be heard at trial. The defendants must still contend with allegations that O'Brien's show, "Conan," stole jokes about Tom Brady, Caitlyn Jenner, and the Washington Monument from a freelance comedy writer.
Kaseberg sued in 2015, claiming jokes on his blog were later lifted for use on Conan. Judge Janis Sammartino ruled that there was enough evidence to support claims regarding the jokes about Brady, Jenner, and the monument.
The Brady joke went like this: "Tom Brady said he wants to give his MVP truck to the man who won the game for the Patriots." Kaseberg posted it on Twitter on Feb. 3, 2015, according to the court order. "So enjoy that truck, Pete Carroll."
Compare that to the joke O'Brien used on his show that night: "Tom Brady said he wants to give the truck that he was given as Super Bowl MVP … to the guy who won the Super Bowl for the Patriots. Which is very nice. I think that's nice. I do. Yes. So Brady's giving his truck to Seahawks coach Pete Carroll."
The Jenner joke, which Kaseberg posted on his blog on June 9, 2015, said, "Three towns, two in Texas, one in Tennessee, have streets named after Bruce Jenner and now they have to consider changing them to Caitlyn," according to the order. "And one will have to change from a Cul-De-Sac to a Cul-De-Sackless."
A Conan writer allegedly submitted a similar joke soon after, which O'Brien later did that night: "Some cities that have streets named after Bruce Jenner are trying to change the streets' names to Caitlyn Jenner. If you live on Bruce Jenner cul-de-sac it will now be cul-de-no-sack."
A third joke riffed on the Washington Monument.
On Feb. 17, 2015, Kaseberg posted: "The Washington Monument is ten inches shorter than previously thought. You know the winter has been cold when a monument suffers from shrinkage."
Another Conan writer allegedly submitted a similar joke, for use that same night: "Yesterday surveyors announced that the Washington Monument is ten inches shorter than what's been previously records. Yeah. Of course, the monument is blaming the shrinkage on the cold weather. Penis joke."
Kaseberg made claims about two other jokes, but Judge Sammartino ruled that he didn't have a strong enough case for those, and dismissed those claims.
The defendants include O'Brien; Conan writer Jeff Ross; Conaco, LLC; Turner Broadcasting System; and Time Warner, Inc.
Kaseberg, and the defendants will have the chance to sort things out privately, and if they can't, there will be a last pretrial conference set for August, according to The Hollywood Reporter.
LawNewz.com reached out to the defense attorneys at Glaser Weil for comment, but they have not responded as of yet.
Defendants had argued that each of the jokes were independently created.
Joked Conan co-host Andy Richter shortly after the lawsuit was filed:
There's no possible way more than one person could have concurrently had these same species-elevating insights! THESE TAKES ARE TOO HOT!

— Andy Richter (@AndyRichter) July 27, 2015
O'Brien himself expressed his feelings about the accusation during a deposition, THR reported. "Accusing a comedian of stealing a joke is the worst thing you can accuse them of, in my opinion, short of murder," O'Brien said.
[Screengrab via TBS]
Have a tip we should know? [email protected]