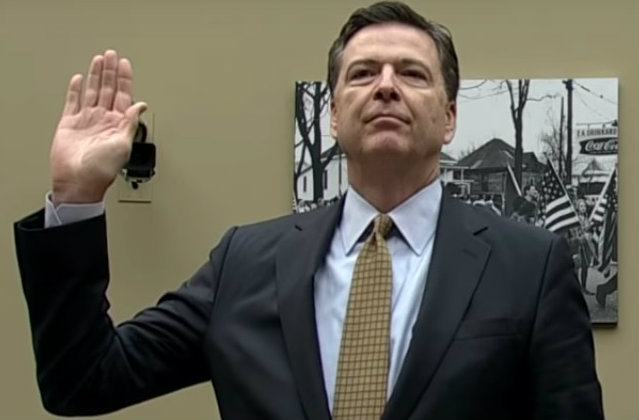 FBI Director James Comey told the Justice Department they needed to publicly reject Donald Trump's wiretapping claim, according to The New York Times. Senior American officials told the outlet on Sunday that Comey did it because there was no evidence, and the president's allegation seemed to imply that the feds broke the law. Spokespeople for the Justice Department and FBI declined to comment.
A spokeswoman for the Justice Department declined to comment again when LawNewz.com reached out.
The POTUS said on Saturday that his predecessor ordered wiretapping on Trump Tower. He made the assertion on Saturday, but didn't explain his evidence or sources.
Terrible! Just found out that Obama had my "wires tapped" in Trump Tower just before the victory. Nothing found. This is McCarthyism!

— Donald J. Trump (@realDonaldTrump) March 4, 2017
Is it legal for a sitting President to be "wire tapping" a race for president prior to an election? Turned down by court earlier. A NEW LOW!

— Donald J. Trump (@realDonaldTrump) March 4, 2017
How low has President Obama gone to tapp my phones during the very sacred election process. This is Nixon/Watergate. Bad (or sick) guy!

— Donald J. Trump (@realDonaldTrump) March 4, 2017
An Obama spokesman denied the former POTUS ordered such a thing.
Statement just in from @BarackObama spokesman on Trump wiretap claims pic.twitter.com/U8QakCzR4K

— David Mack (@davidmackau) March 4, 2017
Former Director of National Intelligence James Clapper also said on Meet the Press Sunday that he wasn't aware of any FISA court orders to wiretap Trump or his campaign. The Times reported in January that law enforcement agencies led by the FBI were investigating possible links between Russian officials and Trump's colleagues.
Click here for our analysis on the legality of such a wiretapping program.
[Screengrab via C-SPAN]
Have a tip we should know? [email protected]