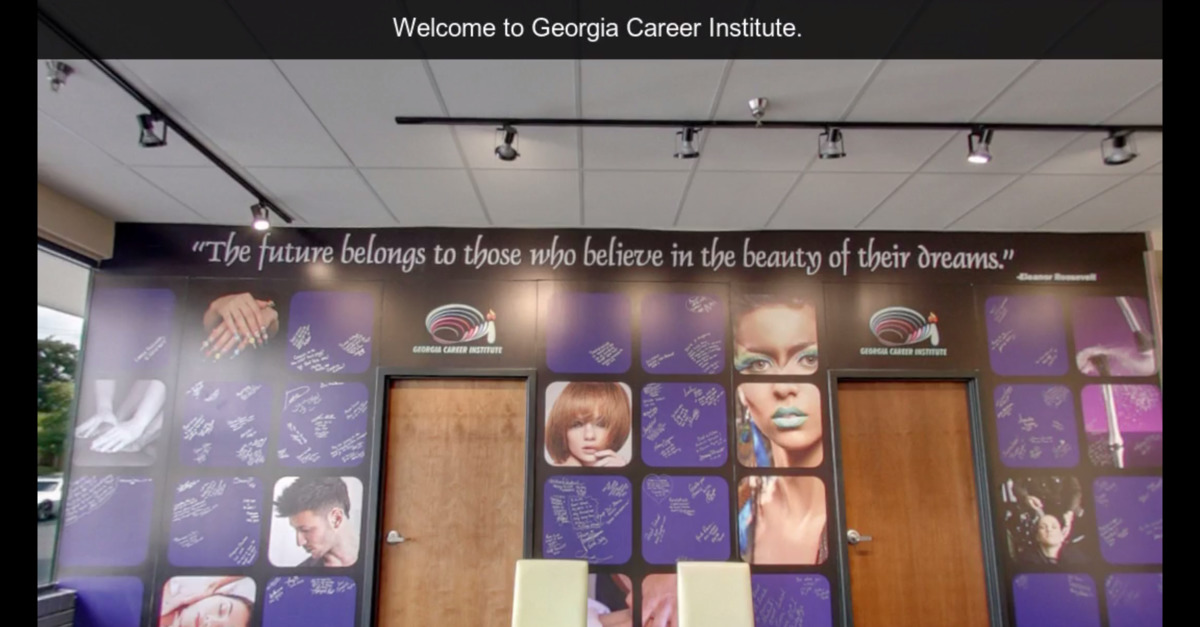 A for-profit college in Tennessee allegedly expelled a Muslim student for wearing hijab. Now, she's demanding a tuition refund and changes to the school's policy.
Linde McAvoy converted to Islam shortly after beginning her coursework at the Georgia Career Institute (GCI) in December 2017. According to a five-page demand letter sent to the school on Tuesday, McAvoy took out thousands of dollars worth of federal student loans–and spent thousands of dollars of her own money–in order to finance her studies in the school's esthetics program.
McAvoy converted in late January 2018 and beginning wearing a hijab.
According to the demand letter, "Ms. McAvoy believes wearing the hijab in public is an obligatory practice deeply bound to her sex, an indelible part of her gender expression, and a traditionally feminine means of practicing modesty and adherence to God. As such, Ms. McAvoy started wearing a hijab in public, including on GCI's campus."
A campaign of harassment is alleged to have begun soon thereafter.
GCI President, CEO, and Murfeesboro Campus Director Joyce Meadows is singled out in the legal document.
"Meadows … started insisting that Ms. McAvoy remove the hijab, citing the school's dress code," the letter says. "Even after Ms. McAvoy explained that she wore her hijab out of religious obligation, Ms. Meadows insisted on its removal, despite the fact that the dress code does not prohibit religious head coverings. Ms. McAvoy was repeatedly ejected from her classes for wearing her hijab."
McAvoy also appears to have been singled out due to her status as a Muslim.
"McAvoy felt targeted and humiliated by Ms. Meadows' actions," the demand letter notes. "[N]ot only was she wearing the hijab in accordance with her religious beliefs, but she regularly observed other students violate the GCI dress code by wearing nonreligious head coverings such as hats and beanies to school without rebuke or sanction."
Those ejections weren't nearly the end of it. The demand letter continues:
After Ms. McAvoy began wearing her hijab to class, Ms. Meadows informed her that if she wanted to continue attending GCI she would have to remove her hijab while on campus or provide external confirmation that she wore the hijab for religious reasons. Ms. Meadows, however, failed to support or justify this demand for external confirmation, and GCI's Student Catalog imposes no such obligation. As such, and in accordance with her sincerely held religious belief to wear the hijab in public, Ms. McAvoy continued to cover her hair at school. GCI expelled Ms. McAvoy on or around February 23, 2018.
In a statement obtained by Law&Crime, Muslim Advocates staff attorney Nimra Azmi excoriated the school over their apparent anti-hijab campaign.
"GCI's behavior is reprehensible, discriminatory, and illegal. GCI receives federal student loans and has to comply with federal anti-discrimination mandates," Azmi noted. "GCI promised Ms. McAvoy a pathway to accreditation in her field, but instead expelled her simply because she is a practicing Muslim."
Now, McAvoy is demanding a full tuition refund, an amendment to their dress code for religious exceptions, and the provision of anti-discrimination to GCI's staff.
Law&Crime reached out to Meadows and other GCI officials for comment om this story, but no response was forthcoming at the time of publication.
[image via screengrab/YouTube]
Follow Colin Kalmbacher on Twitter: @colinkalmbacher
Have a tip we should know? [email protected]