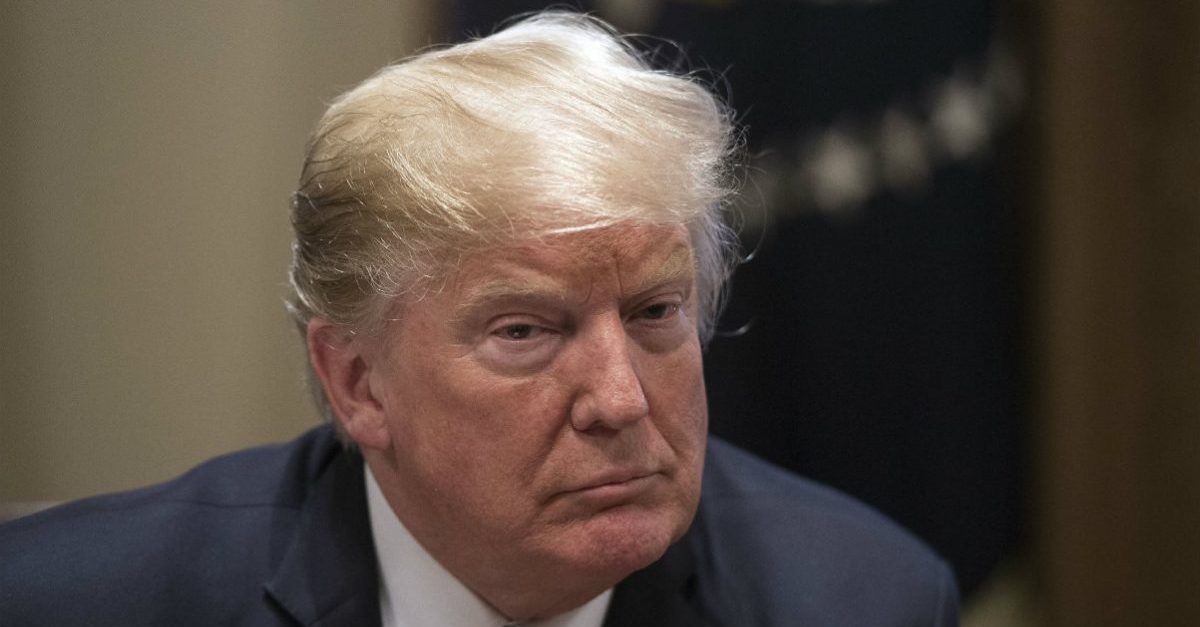 Federal prosecutors in Manhattan were responsible for two major developments on Wednesday, developments that point to trouble for President Donald Trump. First, Trump's former lawyer Michael Cohen was sentenced to three years in prison in their case where he pleaded guilty to several crimes, including campaign finance violations that he said Trump "directed." Next, Southern District of New York prosecutors announced that the company involved in one of those violations, National Enquirer publisher American Media, Inc. (AMI), will not face prosecution for their role.
This means that Trump appears to be on the wrong end of a two-pronged attack, with investigations being conducted by the Southern District of New York, as well as Special Counsel Robert Mueller's office.
AMI is the company that paid $150,000 to former Playboy model Karen McDougal for the rights to her story about an alleged affair with Trump. They then buried the story, as part of a practice known as "catch and kill," effectively buying McDougal's silence on the matter. As part of their deal, AMI admitted that they paid McDougal in concert with the campaign, and in order to keep McDougal's allegations from influencing the 2016 presidential election.
Whatever the SDNY prosecutors are looking into, the newly announced deal mentions AMI's "substantial and important assistance in this investigation," as well as the need for their "cooperation in the future." The fact that federal prosecutors announced this deal with AMI after Cohen's case has already been taken care of shows that they are far from finished.
This could mean that prosecutors are looking into other possible crimes related to the McDougal payment, or perhaps other offenses where AMI may be of service. AMI CEO David Pecker already agreed to cooperate with prosecutors and was granted immunity. He's also known to be a long-time friend of Trump.
It stands to reason that prosecutors are still very much interested in Individual-1 (President Trump). After all, they mentioned in their sentencing memo that Cohen's campaign-related crimes were committed at Trump's direction.
CNN legal analyst Ross Garber supported this idea, noting after the AMI announcement that SDNY prosecutors seem to be focused on the president.
To the extent there was any question – which there shouldn't have been – President Individual 1 and almost certainly The Individual 1 Organization are the SDNY's targets. https://t.co/KAY61rRHdK

— Ross Garber (@rossgarber) December 12, 2018
Garber also pointed out that the campaign finance violations are not necessarily the only things Trump might have to worry about, since the door has been opened to the Trump Organization.
"The biggest danger to Trump isn't the campaign finance issue itself, but that it was a rationale for SDNY prosecutors to get their heads under the Trump Org tent," Garber said.
The biggest danger to Trump isn't the campaign finance issue itself, but that it was a rationale for SDNY prosecutors to get their heads under the Trump Org tent. https://t.co/ObRdHeEZn7

— Ross Garber (@rossgarber) December 12, 2018
"It's never a good thing to have SDNY prosecutors and agents looking for crimes and having cooperation from your friends, your lawyer, the CFO of your business, and the National Enquirer," Garber told Law&Crime.
Like David Pecker, Trump Organization CFO Allen Weisselberg received an immunity deal.
Since federal prosecutors in New York are already looking at the Trump Organization, who knows what else they might find. What's more, New York's incoming Attorney General Letitia James has been quite clear about her intent to go after Trump and his family on state crimes.
Current Justice Department policy—which Robert Mueller is likely to follow—says that a sitting president cannot be indicted. Democrats have noted that charges could come once Trump is out of office, giving the 2020 election importance for Trump beyond his reelection.
Ronn Blitzer is the Senior Legal Editor of Law&Crime and a former New York City prosecutor. Follow him on Twitter @RonnBlitzer.
[Image via NICHOLAS KAMM/AFP/Getty Images]
Have a tip we should know? [email protected]