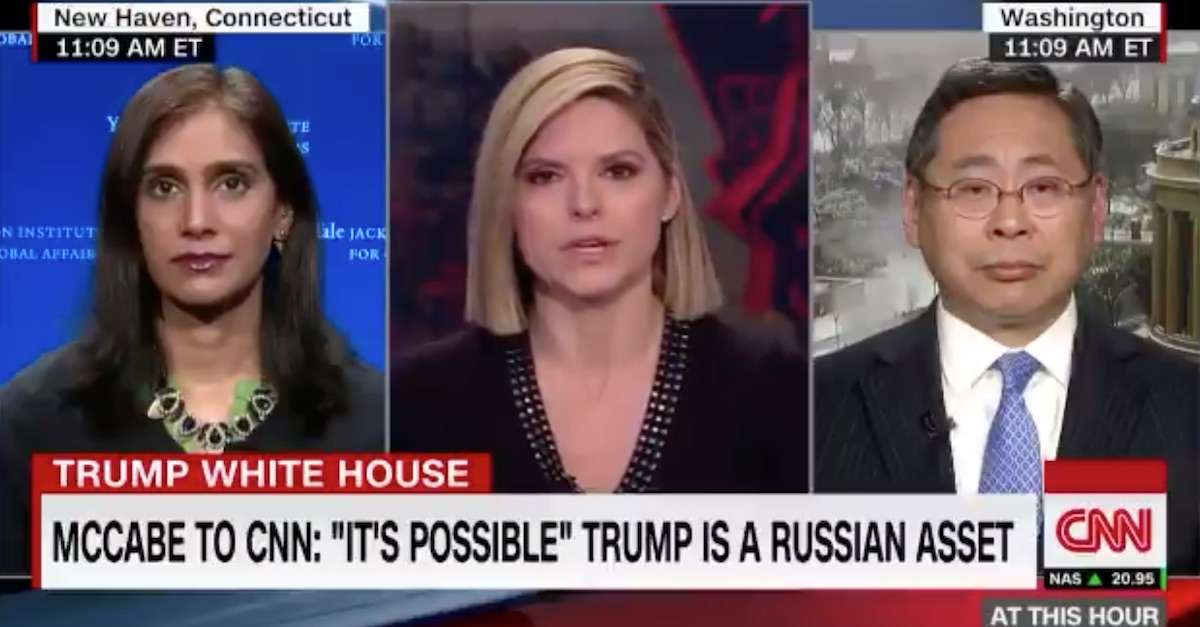 Two of the leading news stories right now collided on CNN Wednesday morning, when host Kate Bolduan suggested that the real national emergency was not the one President Donald Trump has declared, but the possibility that Trump is a Russian "asset," as claimed by fired Deputy FBI Director Andrew McCabe.
The discussion began with former FBI special agent Asha Rangappa explaining that even if Trump isn't an "asset" in the strict usage of the term, his possible susceptibility to being influenced by Vladimir Putin could be seen as a "threat to national security."
McCabe, who the DOJ's Inspector General determined lied about Clinton email probe leaks to the press, has been on a book and media tour, explaining why he opened an investigation into the president. McCabe put it simply Tuesday during an interview with CNN's Anderson Cooper that he could not rule out Trump being a Russian "asset."
"I think it's possible. I think that's why we started our investigation, and I'm really anxious to see where [Robert] Mueller concludes that," McCabe said. Needless to say, the interview sparked wide-spread commentary and reaction that continued into Wednesday morning.
While shifting the conversation from Rangappa to former federal prosecutor Shan Wu, Bolduan said the following: "If that's the case, that the president is — was — and possibly still is, [McCabe] believes, an asset of Russia, isn't that the real definition of a national emergency?"
You can watch the segment below:
[Image via CNN screengrab]
Have a tip we should know? [email protected]