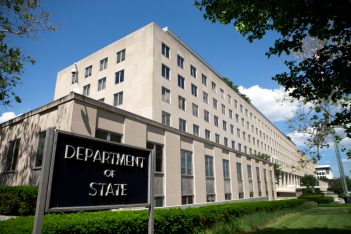 The former Director of Information Resource Management of the Executive Secretariat at the State Department invoked his 5th Amendment right against self-incrimination 87 times on Monday during a deposition in a Freedom of Information Act lawsuit.  The government watchdog group Judicial Watch brought the lawsuit in an effort to uncover whether Hillary Clinton and her aides at the State Department attempted to thwart FOIA requests into the use of her private server and the unique employment status of her aide Huma Abedin.
In his position as S/ES-IRM, John Bentel was in charge of the office that handled information technology for the Office of the Secretary during Clinton's tenure as Secretary of State.  U.S. District Court Judge Emmet Sullivan granted Judicial Watch's request to question Bentel after finding apparent discrepancies between his testimony before the Benghazi Select Committee and records uncovered as part of the FOIA lawsuit.  In his August 2016 order, Judge Sullivan wrote:
The Court is persuaded that Mr. Bentel should be deposed because the record in this case appears to contradict his sworn testimony before the Benghazi Committee. . . . Specifically, Mr. Bentel testified that he was not aware that Secretary Clinton's email account was housed on a private server until media reports in 2015. . . . However, several emails indicate Mr. Bentel knew about the private server as early as 2009.
Judge Sullivan's order also cited findings the May 2016 State Department Inspector General's report as a basis for allowing the deposition of Bentel.
"[T]he OIG May 2016 report found that Mr. Bentel told employees in his office that Secretary Clinton's email arrangement had been approved by the State Department's legal staff and also instructed his subordinates not to discuss the Secretary's email again," Judge Sullivan wrote.
On Monday, Judicial Watch sought answers from Bentel about these issues, as well as others related to Clinton's use of the private server at the State Department.  However, Bentel invoked his 5th Amendment right 87 times, relying on the advice of his personal legal counsel and lawyers from the Justice Department.
Clinton State Department aide Bryan Pagliano also invoked his 5th Amendment in refusing to answer questions during his deposition earlier this year.
"The fact that yet another State Department official took the Fifth highlights the disturbing implication that criminal acts took place related to the Clinton email and our Freedom of Information Act requests," Judicial Watch president Tom Fitton said in a statement obtained by LawNewz.com.  
He added, "We are considering our next steps, which includes potentially exploring the question of whether Mr. Bentel has a reasonable fear of prosecution."
One of the next steps Judicial Watch could take with respect to Bentel is to ask Judge Sullivan to force him to testify.  But in order for that to happen, Judge Sullivan would first have to determine that Bentel does not have a reasonable fear of prosecution based on his pitentional responses to the deposition questions.
However, that seems unlikely considering the findings in the Inspector General report appear to contradict Bentel's sworn testimony before the Benghazi Select Committee.  Such findings arguably provide evidence that would subject Bentel to prosecution for lying to Congress. Therefore, it is unlikely that he could be compelled to testify in the FOIA lawsuit as his answers could potentially be used against him in a future prosecution.
[image via Mark Van Scyoc/Shutterstock]
Have a tip we should know? [email protected]