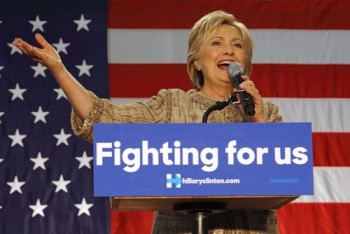 New e-mails released on Thursday show then Secretary of State Hillary Clinton instructed her top aide at the State Department to call her unsecured home phone after attempts to connect over a secure line failed.
The February 22, 2009 e-mail exchange between Clinton and her then Chief of Staff Cheryl Mills was released as part of a Freedom of Information Act (FOIA) lawsuit filed by the legal watchdog group Judicial Watch.
The exchange is initiated by Clinton when her flight lands after likely returning from an overseas trip to Asia, records show.
"I just landed and will be home shortly We can try a secure call at your convenience. [redacted] Let me know what time works," Clinton wrote.
After Mills responds that she is available, Clinton writes, "Are you calling me? What #? I called ops and they gave me your 'secure' cell which I just tried but only got a high-pitched whining sound."
Mills then tells her to try the call again, but Clinton writes back about 20 minutes later, "I give up. Call me on my home #."
"I just spoke to ops and called you[r] reg line – we have to wait until we see each other b/c [the] technology is not working," Mills writes to Clinton at approximately the same time.
Nonetheless, Clinton apparently still wants to talk and writes back six minutes later, "Pls try again — [redacted]."
There is no indication of what the two discussed on the phone call, however.
This is not the first time that Clinton apparently instructed an aide to use an unsecured means of communication for her convenience.  An e-mail released by the State Department in January shows Clinton instructing aide Jake Sullivan to fax her a document over a nonsecure line.
"If they can't, turn into nonpaper w no identifying heading and send nonsecure," Clinton wrote in an e-mail dated June 2011.
"This drip, drip of new Clinton emails show Hillary Clinton could not care less about the security of her communications," said Judicial Watch President Tom Fitton in a statement posted on the group's website. "How many other smoking gun emails are Hillary Clinton and her co-conspirators in the Obama administration hiding from the American people?"
The e-mail exchange with Mills, as well as other e-mails released on Thursday also appear to show that Clinton and aide Huma Abedin used clintonemail.com e-mail accounts as early as January 2009.
This contradicts claims made by Clinton and her campaign that she did not begin using the private e-mail server until March 2009.  Furthermore, none of the e-mails publicly released by the State Department date before March 18, 2009.
The dates of the newly released e-mails also appear to contradict a declaration signed by Clinton, under penalty of perjury, saying she surrendered all her work-related e-mails to the State Department on December 5, 2014.
Clinton has always insisted that she followed the proper procedures for handling classified information.
[image via shutterstock]
Have a tip we should know? [email protected]