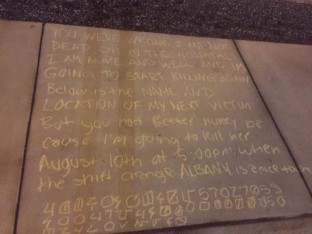 Sidewalk chalk is again responsible for causing a panic on another American college campus, this time at Florida State University in Tallahassee, FL.  But it wasn't an anonymous overnight "Trump Chalking" that set off alarms at FSU, it was something that appeared much more sinister.
According to the Tallahassee Democrat, Police on Friday began an investigation after receiving reports that the latest campus chalking incident included the cipher associated with the notorious Zodiac Killer.  Zodiac is a serial killer thought to be responsible for the murders of several people in California in the late 1960s and early 1970s.  He was known for sending several taunting letters and ciphers after his killings, but he was never captured.
"You were wrong. I am not dead or in the hospital. I'm alive and well and I'm going to start killing again," read the mysterious chalk message on a sidewalk near an FSU residential hall.
This message was nearly identical to what the Zodiac Killer sent to an Albany, NY newspaper in 1973, and  that was enough to alarm both the FSU Campus Police and the  Tallahassee Police.  Both departments ordered increased patrols and police presence on campus through the weekend.  Even the local TV stations got in on the panic, the chalking reports led the local news broadcasts Monday night.  All of which just made the local public even more uneasy.
So, was the Zodiac Killer back after over 40 years?
Of course not.
Tallahassee Police Dept. spokesman Officer David Northway said it was all just a class project gone wrong. We "are happy to report it was all a misunderstanding," Northway said.
The Tallahassee Democrat writes:
It turned out to be part of a class project on serial killers and drug cartels in Florida State University professor Iheoma Nwachukwu's English class.

The assignment was to write a message in a public forum, take a picture and send it to Nwachukwu.
As for the student who actually wrote the message, well she left town right after class on Friday and had no idea that she had kicked off a campus wide panic.  When she got back to campus on Tuesday, the student said she went to police after watching a news report and seeing all the flyers alerting students about the incident.
It does not appear that any students or the professor will face any punishment over the incident.
[image via screengrab]
Have a tip we should know? [email protected]