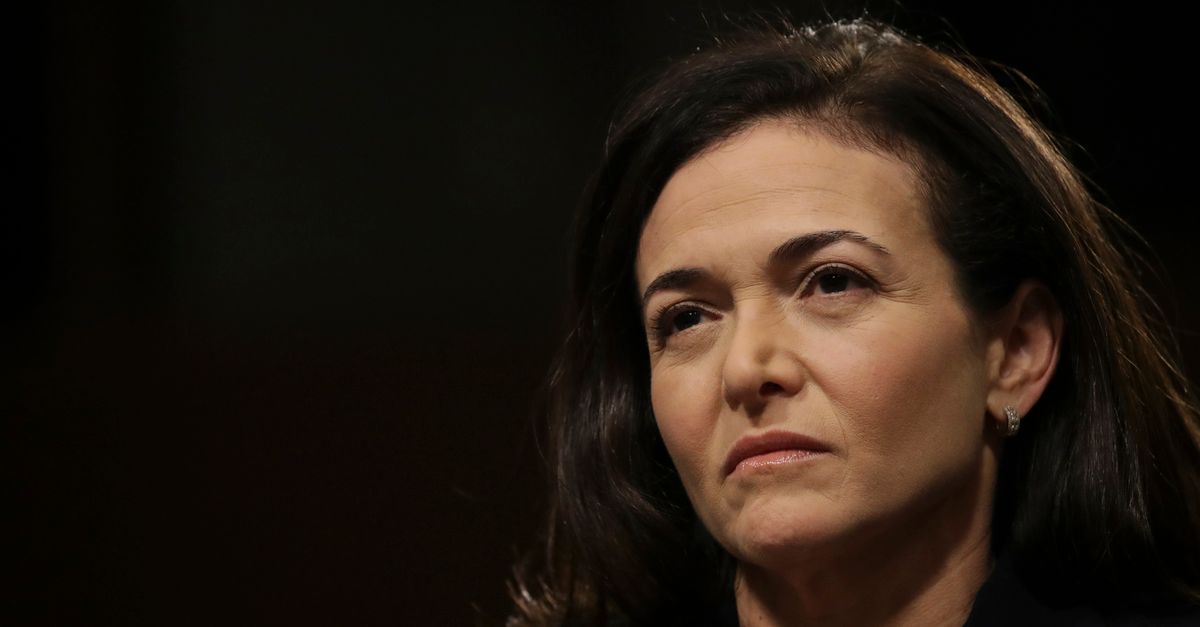 Civil rights groups and various other advocacy organizations are accusing Facebook's top brass–including COO Sheryl Sandberg–of using and abusing anti-Semitism in order to silence and smear its critics.
According to a New York Times report released Wednesday:
While Mr. Zuckerberg conducted a public apology tour in the last year, Ms. Sandberg has overseen an aggressive lobbying campaign to combat Facbeook's critics, shift public anger toward rival companies and ward off damaging regulation. Facebook employed a Republican opposition-research firm to discredit activist protesters, in part by linking them to liberal financier George Soros. It also tapped its business relationships, persuading a Jewish civil rights group to cast some criticism of the company as anti-Semitic.
Advocates allege this report shows that Facebook engaged in a dual-pronged strategy of anti-Semitism by: (1) employing conspiracy theories about billionaire financier and philanthropist George Soros–which are largely understood as a stand-in for several ancient anti-Semitic tropes; and (2) abusing charges of anti-Semitism by accusing Facebook's critics of being motivated by anti-Semitism.
"In July, [protesters] crashed a hearing of the House Judiciary Committee, where a company executive was testifying about its policies," the Times report notes. "As the executive spoke, the organizers held aloft signs depicting Ms. Sandberg and Mr. Zuckerberg, who are both Jewish, as two heads of an octopus stretching around the globe. Eddie Vale, a Democratic public relations strategist who led the protest, later said the image was meant to evoke old cartoons of Standard Oil, the Gilded Age monopoly. But a Facebook official quickly called the Anti-Defamation League, a leading Jewish civil rights organization, to flag the sign."
Color of Change is one such advocacy organization. The Civil Rights group has been working with Facebook for over a year in an effort to collaborate on a wide-ranging audit of the platform. In comments to Quartz, Color of Change Executive Director Rashad Robinson slammed the social media company.
"Facebook needs to be deeply ashamed," he said, for hiring the GOP firm that, "in this moment would throw gasoline on anti-Semitic flames around Soros and the idea that this Jewish donor controls the world."
Robinson continued:
In so many ways [the New York Times report is] firming up our resolve because the fact that they would hire a PR firm so comfortable with promoting anti-Semitic and racist tropes to get them out of dealing with their problems, means there is a lot of work to do.
Color of Change's organizational response was even more damning.
"Facebook's response to us challenging them [to] create safe conditions [for] Black [people] & marginalized groups on their platform?" the organization's Twitter account asked. "Fanning the flames of anti-Semitism resulting in a pipe bomb on George Soros' doorstep & campaigning against us using alt right media."
Matt Stoller is a fellow at the Open Markets Institute focusing on antitrust and monopoly issues. He's also a frequent Facebook critic. Stoller, who is Jewish, is also involved in the Freedom From Facebook campaign–which advocates breaking the social media company up into smaller pieces. After the Times report ran, Stoller laid into Facebook for its alleged use of anti-Semitic tactics to quash dissent.
"Facebook is an impressive company," Stoller tweeted. "They both went after our coalition group @FacebookBreakup as Soros-funded AND worked with the Anti-Defamation League to accuse us of anti-semitism."
Stoller also described the way such two-sided attacks by Facebook against his organization left him feeling.
"It's really not fun being smeared as both Soros-backed and anti-semitic by a company worth hundreds of billions of dollars that also controls social discourse," he wrote. "It's a career threat. Not the worst thing in the world, but pretty dirty."
The Open Society Foundation is a philanthropic fund connected to Soros which focuses on promoting civil rights and social justice around the world. Open Society President Patrick Gaspard also tore into Facebook for their efforts against criticism in an open letter to Facebook's COO Sandberg. He wrote:
I was shocked to learn from the New York Times that you and your colleagues at Facebook hired a Republican opposition research firm to stir up animus toward George Soros. As you know, there is a concerted right-wing effort the world over to demonize Mr. Soros and his foundations, which I lead–an effort which has contributed to death threats and the delivery of a pipe bomb to Mr. Soros' home. You are no doubt also aware that much of this blatantly false and Anti-Semitic information is spread via Facebook.

The notion that your company, at your direction, actively engaged in the same behavior to try to discredit people exercising their First Amendment rights to protest Facebook's role in disseminating vile propaganda is frankly astonishing to me.
Talia Lavin explained the anti-Semitic nature of attacks against Soros in an article for the Washington Post:
[H]is name has become a synonym for a well-worn anti-Semitic canard: the idea that Jews are malevolent fomenters of social dissent, agitators slyly funding and masterminding protest, seeking to undermine a white, Christian social order," Lavin noted. "It is a canard that resonates not just in European history, where the deadly consequences of anti-Semitic conspiracies are well-known, but throughout American history, and its renewed form draws on a long tradition of American anti-Semitism."
In response to the Times' report, Facebook fired the Republican PR firm which had been hired to spread the Soros conspiracy theories. Meanwhile, several Facebook users have expressed their desire to boycott the company and/or deactivate their accounts.
Law&Crime reached out to Facebook for comment on this story but no response was forthcoming at the time of publication.
[image via Drew Angerer/Getty Images]
Follow Colin Kalmbacher on Twitter: @colinkalmbacher
Have a tip we should know? [email protected]