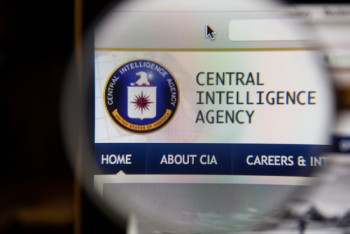 The Central Intelligence Agency is marking the 5-Year Anniversary of its most publicly known triumph to date by "live-tweeting" the 2011 raid on the Abbottobad Compound that killed Osama Bin Laden.
Yes, you read that correctly, if you're following the CIA's verified Twitter feed this Sunday afternoon you'll find yourself getting up to the minute reports of what happened on world's most famous the raid, 5-year-ago today.
As you can image, the wonderful world of twitter is generally none too kind in their responses to this rather unique event.  But aside from the those who complain just for the sake of complaining, there are real concerns from some former special operations folks who feel very valuable intelligence is being given away through this little exercise.
LawNewz.com spoke about what the CIA might be giving away with Jack Murphy, a former Green Beret and Army Ranger, who now serves as editor-in-chief of SOFREP.com.  SOFREP is veteran owned and brings its audience trusted news, intel and journalism from a staff of writers that are also military veterans.
"The enemy can start to put pieces of the puzzle, such as flight ranges, staging areas, and similar details that would be useful in anticipating a future attack," Murphy said.
Murphy also couldn't help but notice a little bit of hypocrisy at play.
"It also seems somewhat hypocritical for the government to go after [No Easy Day author Matt] Bissonette for 'leaking details,' when they are now giving away as much, if not more here," Murphy added.
Join us beginning at 1:25 p.m. EDT today as we tweet the pic.twitter.com/x8EBpW571f

— CIA (@CIA) May 1, 2016
To mark the 5th anniversary of the Usama Bin Ladin operation in Abbottabad we will tweet the raid as if it were happening today.#UBLRaid— CIA (@CIA) May 1, 2016
1:25 pm EDT-@POTUS, DCIA Panetta, & JSOC commander Admiral McRaven approve execution of op in Abbottabad.#UBLRaid pic.twitter.com/YhvuJVrMVc

— CIA (@CIA) May 1, 2016
1:51 pm EDT – Helicopters depart from Afghanistan for compound in Abbottabad, Pakistan#UBLRaid

— CIA (@CIA) May 1, 2016
3:30 pm EDT – 2 helicopters descend on compound in Abbottabad, Pakistan. 1 crashes, but assault continues without delay or injury#UBLRaid

— CIA (@CIA) May 1, 2016
3:30 pm EDT – @POTUS watches situation on ground in Abbottabad live in Situation Room#UBLRaid pic.twitter.com/59KPF7eUTr

— CIA (@CIA) May 1, 2016
3:39 pm EDT – Usama Bin Ladin found on third floor and killed#UBLRaid

— CIA (@CIA) May 1, 2016
3:39 pm – 4:10 pm EDT – Team retrieves large quantity of materials from compound for intel analysis#UBLRaidhttps://t.co/yl1FjRA0qk

— CIA (@CIA) May 1, 2016
3:53 pm EDT – @POTUS receives tentative confirmation of positive identification of Usama Bin Ladin#UBLRaid

— CIA (@CIA) May 1, 2016
4:05 pm EDT – First helicopter leaves the area to go back to Afghanistan#UBLRaid

— CIA (@CIA) May 1, 2016
4:08 pm EDT – Assault Team destroys crashed helicopter#UBLRaid

— CIA (@CIA) May 1, 2016
4:10 pm EDT — Backup helicopter picks up remaining team members & materials & leaves Abbottabad#UBLRaid

— CIA (@CIA) May 1, 2016
For anyone who has watched the movies or read one of the several books about the incident, it appears as though we are at halftime.  Tweeting should pick back up in the next few minutes, either for the fuel stop in the desert or perhaps they'll skip that and start back up when the choppers return to J-Bad.
While this CIA tweet-fest was rather interesting (especially on a slow Sunday afternoon), one thing does seem clear — that the Obama Administration is going  to "spike" the Bin Laden football  hard at least one more time while in office.
On Monday, President Barack Obama is scheduled to sit down with CNN's Anderson Cooper to discuss the Bin Laden killing.  And CNN is promoting unprecedented access to the White House Situation Room and never before seen photos and discussions from the players involved.
UPDATE:
Well, image that! It looks like everyone returned to base, safely.
5:53 pm EDT – Helicopters return to Afghanistan where Admiral McRaven greets team#UBLRaid

— CIA (@CIA) May 1, 2016
[image via shutterstock]
Have a tip we should know? [email protected]