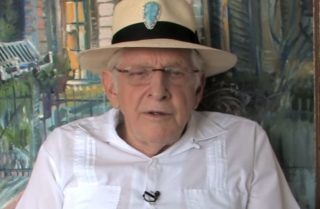 Federal prosecutors say that a church is selling what they call a cure for autism, but what they're really providing is an industrial-strength bleach, according to ABC News.
The Genesis II Church of Health and Healing, and its leader Jim Humble, who calls himself an Archibishop, have been selling their product, called MMS (or Master Mineral Solution), for years, telling families that it will help their children.
"They might as well be selling Clorox," said Ben Mizer of the U.S. Department of Justice. Mizer has been involved in prosecuting at least one salesman who passed the substance off as a cure.
"There's nothing good that MMS is doing," Dr. Paul Wang, senior vice president of Autism Speaks, told ABC in a 20/20 segment that will air this Friday. "This is a poison. This is a high-strength industrial bleach." Wang said that what makes matters worse is that plenty of children taking MMS may not be able to tell their parents that something is wrong. "A lot of kids with autism do not have good communication skills," Wang said, pointing out that "they can't say that it's hurting them."
A chemical test done for ABC News showed that MMS is really chlorine dioxide, which federal prosecutors say could be used to clean counter tops and swimming pools. Indeed, Humble's website acknowledges that MMS is chlorine dioxide, and he's addressed criticism in the past.
"Yes, it's used as a bleach throughout the world," Humble acknowledged in a video from 2011. However, he says that's only when it's "more than 1,000 times stronger than what we use it [sic] for the human body."
According to an information site featured on Humble's personal website, MMS was first billed as a treatment for Malaria in 1996. It has since been hailed as a cure-all for a wide variety of ailments, from allergies to tumors. Humble also sells books about the product. Many of the websites used for Humble and MMS are currently registered under Icelandic web domains, and according to ABC News, Humble himself has lived in Mexico for years, but is being watched by U.S. authorities. According to the report, Humble is a former gold prospector who claims to be from a different galaxy.
[Image via YouTube screengrab]
Have a tip we should know? [email protected]