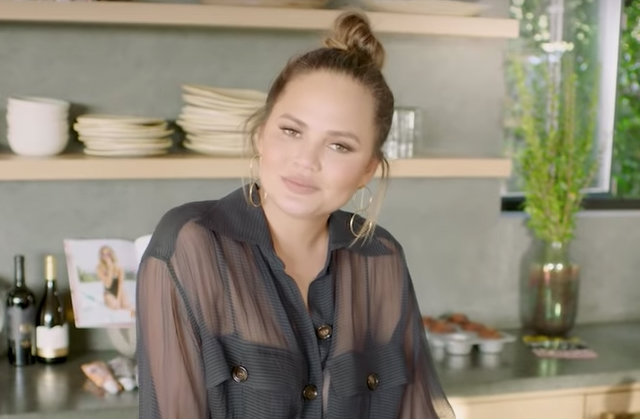 On Tuesday, model and TV show host Chrissy Teigen offered to pay a $100,000 fine on behalf of Olympic gymnast McKayla Maroney. Maroney said that Dr. Larry Nassar drugged her with a sleeping pill when she was 15 and sexually assaulted her. She can no longer talk about it, however, because of the non-disclosure agreement linked to her December 2016 settlement with U.S. gymnastics. Maroney is currently fighting that NDA in court, according to the Daily Mail. She sued in December, and called the agreement "illegal." That lawsuit remains ongoing. U.S. gymnastics it was her attorneys who drafted the confidentiality agreement in the first place.
Meanwhile, Nassar is in a Ingham County court in Michigan. He is being sentenced this week on seven counts of first-degree criminal sexual conduct, but that doesn't compare to the sheer number of allegations against him. 88 people are expected to give victim impact statements before he is officially sentenced. Presumably, Maroney could've been one of these women. News about the NDA got this reaction from Teigen on Tuesday:
The entire principle of this should be fought – an NDA to stay quiet about this serial monster with over 140 accusers, but I would be absolutely honored to pay this fine for you, McKayla. pic.twitter.com/lsBEgEqZpD

— christine teigen (@chrissyteigen) January 16, 2018
Maroney tweeted openly about Nassar back in October. It has since been deleted.
Ingham County prosecutors asked for a sentence of up to 125 years in prison. The actual sentence may be lesser than that since Nassar pleaded guilty. Then again, he also pleaded guilty to federal child porn charges, and the judge in that case gave him the maximum sentence of 60 years. Nassar also admitted to three counts of first-degree criminal sexual conduct in Eaton County. He is scheduled for sentencing in that case on January 31.
[Screengrab via Vogue]
Have a tip we should know? [email protected]