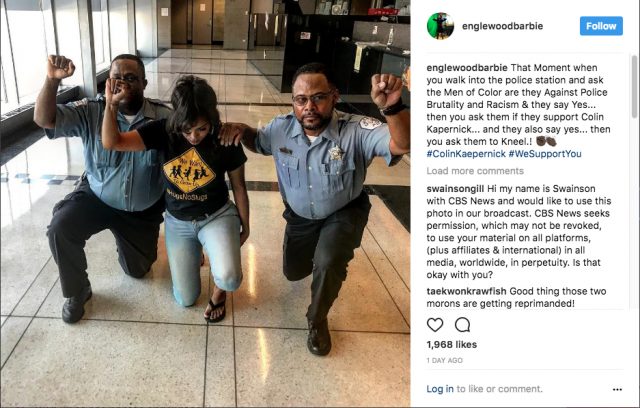 Two members of the Chicago Police Department are facing an official reprimand after being photographed taking a knee in support of former 49ers quarterback Colin Kaepernick and his protest against unequal police treatment of African Americans.
The officers were apparently approached in an unidentified Chicago police station by activist Aleta Clarke. Clarke then asked the two officers, who are black, whether they were opposed to police brutality and racism–essentially the heart of Kaepernick's protest–and when they responded in the affirmative, knelt down in solidarity with Clarke, Kaepernick and the broader message.
Someone photographed the resulting scene and Clarke posted the image to Instagram, where she posts under the handle @englewoodbarbie. The caption to Clarke's post read:
That Moment when you walk into the police station and ask the Men of Color are they Against Police Brutality and Racism & they say Yes… then you ask them if they support Colin Kapernick… and they also say yes… then you ask them to Kneel.!
That image almost immediately went viral and quickly appeared on the Chicago Sun-Times' website and, just this morning, on the front page of the paper's print edition.
Most of the response to Clarke and the cops' shared protest was positive, however, a few comments made reference to the possibility of the officers involved losing their jobs–and as the post picked up steam, more negative commentary poured in.
One commenter, in support, wrote:
Heroic stand for these officers! But now the real fight becomes after the pic. Will we stand and March for them as they stood for us? Just as we protest against Bad🐷 its only right we protest & fight for the Good that was willing to lose something
Another, who was a bit less pleased, said, "This so called lady is quite obviously not playing with a full deck. Looks like the 2 CPD fellas aren't either. While in uniform the represent the City of Chicago & this is not part of the job description"
Eventually, higher-ups in the Chicago Police Department became aware of the image and responded negatively, as official policy prohibits political displays or activity while in uniform.
Chicago Police Department spokesman, Anthony Guglielmi, said, in an email to the Chicago Tribune, "we are aware of the photo and we will address it in the same way we have handled previous incidents in which officers have made political statements while in uniform, with a reprimand and a reminder of department policies."
[image via screengrab]
Follow Colin Kalmbacher on Twitter: @colinkalmbacher
Have a tip we should know? [email protected]