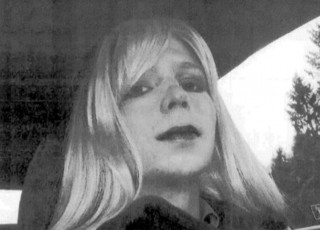 Chelsea Manning, the former Army intelligence analyst serving a prison term for turning over classified documents to WikiLeaks, has ended her hunger strike after receiving promises from the Army that she will get prescribed treatment for gender dysphoria, according to an announcement from the ACLU. Manning, a trans woman, began the hunger strike on September 9 to protest her treatment while imprisoned.
Manning began to identify as a woman in public a day after her sentencing in August 2013, and sued the Department of Defense the following year so that she could express her gender identity while imprisoned. She sought to grow out her hair, use cosmetics, and get hormone treatment. She has been serving her sentence in an all-male prison. According to the ACLU, who represents her, Manning has gender dysphoria, and was not being properly treated for the condition. Manning reportedly attempted suicide in prison in July.
Manning's psychologist recommended gender affirming surgery for her in April, but no plans had been made for her to actually receive the treatment. So last week, she decided to take drastic measures. She only ended the hunger strike once she got assurance that the government would go forward with plans for her to get surgery. "I am unendingly relieved that the military is finally doing the right thing. I applaud them for that. This is all that I wanted — for them to let me be me," Manning said in a statement.
So far, no transgender person has ever had gender affirming surgery in prison. ACLU staff attorney Chase Strangio said:
This is a monumental day for Chelsea, who can now enjoy some peace knowing that critically needed medical care is forthcoming. This medical care is absolutely vital for Chelsea as it is for so many transgender people — in and out of prison — who are systemically denied treatment solely because they are transgender.
Have a tip we should know? [email protected]