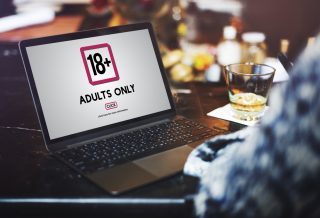 The U.S. Senate has been investigating classified website Backpage.com since 2015, under suspicion that they have enabled sex trafficking through the "adult" section of the site. After the Senate released a report on Monday that excoriated the site for knowingly facilitating prostitution and child sex trafficking, Backpage has taken down the adult sections, but they're kicking and screaming the whole way.
While the links in the adult section, including escorts, body rubs, strippers & strip clubs, and adult jobs, are still visible, they are no longer active, instead directing users to a page that says "CENSORED," and "The government has unconstitutionally censored this content." The page also encourages users to support free speech on social media, and links to a media resources page, which gives background on the "unconstitutional government censorship" that led to them removing adult content.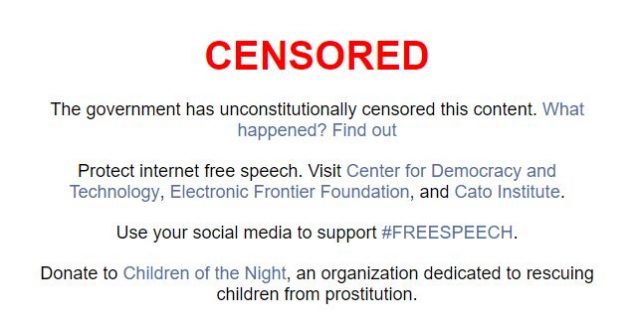 The Senate report said that "Backpage is involved in 73% of all child trafficking reports that the National Center for Missing and Exploited Children (NCMEC) receives from the general public (excluding reports by Backpage itself)." It also accuses the site of being aware that people were using their site for prostitution and child sex trafficking, and knowingly aided these activities. The report states that in 2010, Backpage instituted a policy to delete ads that included discussion of sex for money, but then began simply deleting incriminating language that was "evidence of illegality," and then running the edited ads.
In a statement posted after they shut down the adult section, Backpage claimed that they are the target of illegal censorship that would not stop trafficking, but would also prevent them from working with law enforcement to catch potential offenders. The post, published Monday, said:
Backpage.com will continue to pursue its efforts in court to vindicate its First Amendment rights and those of other online platforms for third party expression. In the end, the company believes that courts will continue to hold, as they have consistently so far, that heavy-handed government tactics to suppress a forum for Internet speech violates basic constitutional value
The Senate Permanent Subcommittee on Investigations is holding a hearing on Backpage Tuesday at 10:00 am. It can be viewed on the Subcommittee's website.
Backpage Report 2017.01.10 FINAL by LawNewz on Scribd
[Image via Shutterstock]
Have a tip we should know? [email protected]