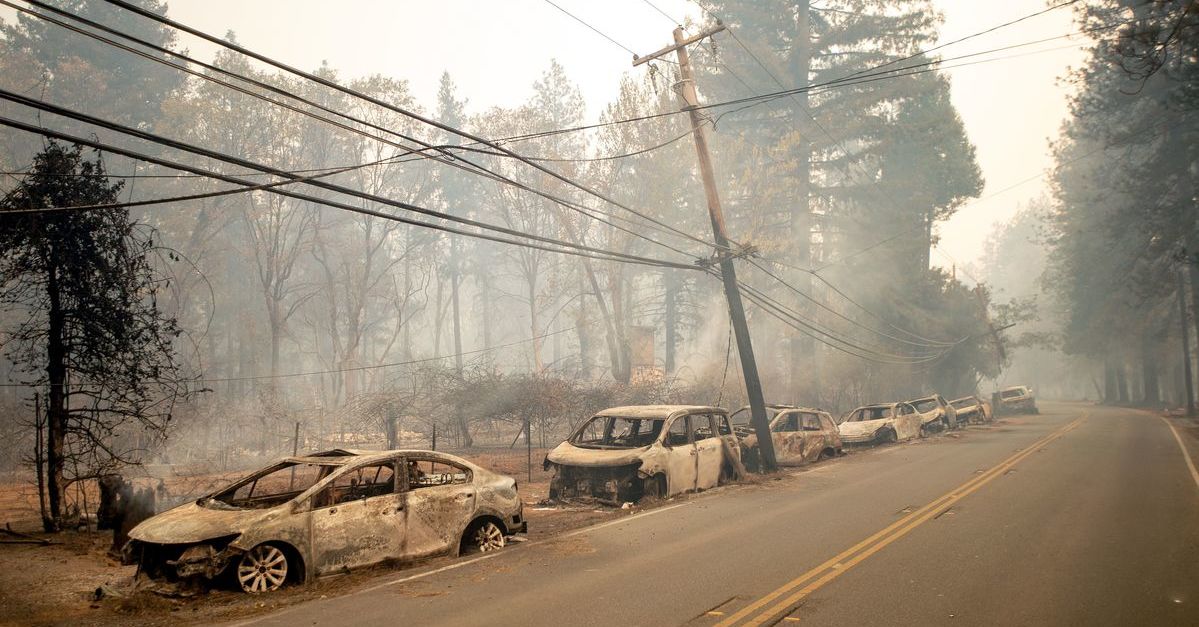 California utility company Pacific Gas & Electric Co. (PG&E) could be prosecuted on criminal charges–up to and including murder–over the deaths of 86 people during the deadly Camp Fire in Butte County, California last month.
According to local ABC affiliate KBC 10, a brief submitted to a federal court by California Attorney General Xavier Becerra outlined the legal standards that might be used to charge PG&E with various crimes should an investigation determine the utility company was the cause of the fire–the deadliest and most devastating in Golden State history.
An investigation into the official cause of the fire is still underway. Fire crews, however, say that they first noticed flames directly underneath an active PG&E high-tension power line just miles outside of Paradise–the northern California town that was ultimately and all-but completely destroyed by the fire.
According to the Sacramento Bee, Becerra's brief was recently submitted to a federal judge who is currently overseeing a preexisting criminal case against PG&E over their culpability in a 2010 natural-gas pipeline explosion in San Bruno, California which killed eight people. Becerra's office also stressed that PG&E could be held criminally liable over various other incidents that have occurred under the utility company's watch since 2017–including 12 fires from that year alone.
Potential liability for the utility company could range anywhere from misdemeanor negligence to murder, according to the brief.
"If PG&E caused any of the fires, the investigation would have to extend into PG&E's operations, maintenance, and safety practices to determine whether criminal statutes were violated,"  the filing notes. "This brief expresses no position on any such factual questions."
Instrumental in any potential criminal determination would be PG&E's mental state–and, of course, the findings of the still extant investigation into the Camp Fire's causes. If PG&E were found to have acted with "criminal negligence" or "recklessness" then felony charges are on the table. A finding that the company was acting with "ordinary negligence" would preclude such criminal charges.
The briefing filed by Becerra's office is only advisory and the attorney general told the Bee that any potential criminal charges would likely be filed by local district attorneys–probably not by the state itself.
Butte County District Attorney Mike Ramsey doesn't seem too eager to move in that direction. Ramsey previously settled with PG&E for $1.5 million over a small wildfire in 2017 and when asked by the Bee about the possibility of pursuing criminal charges against the utility company over the Camp Fire, Ramsey said he hadn't made up his mind–even if Cal Fire inspectors determine PG&E was to blame.
"It's a little premature," he told the outlet.
In a statement provided to KBC 10, PG&E did not address the potential for criminal charges:
PG&E's most important responsibility is public and workforce safety. Our focus continues to be on assessing our infrastructure to further enhance safety and helping our customers continue to recover and rebuild. Throughout our service area, we are committed to doing everything we can to help further reduce the risk of wildfire.
[image via JOSH EDELSON/AFP/Getty Images]
Have a tip we should know? [email protected]