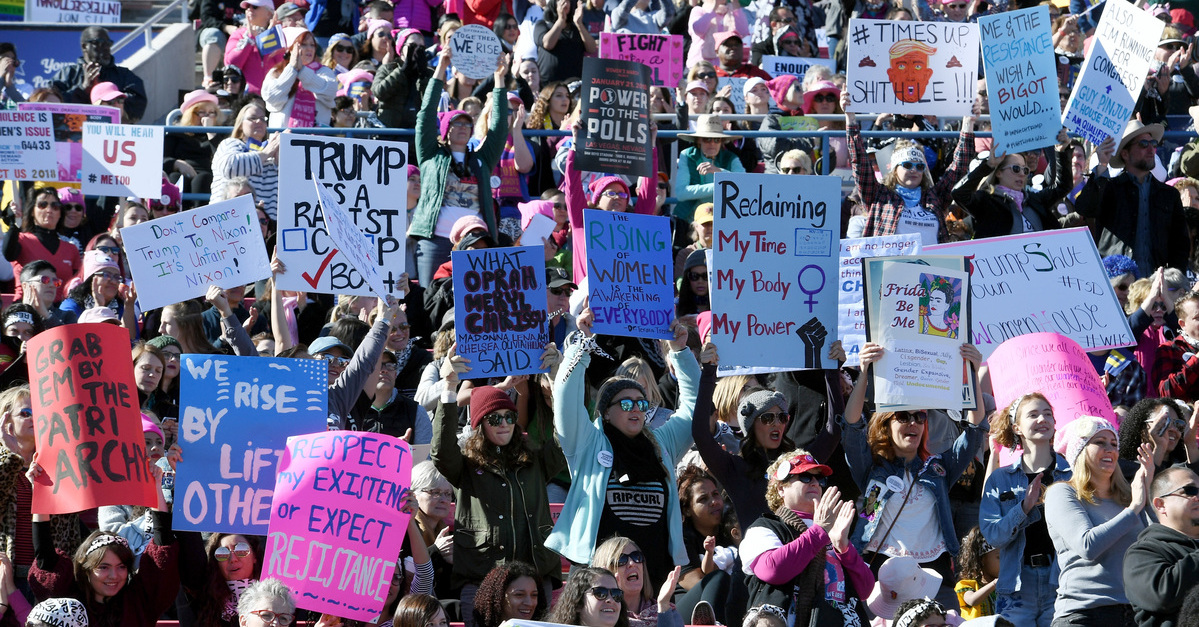 Organizers of the 2019 Women's March have cancelled a planned rally in California because the potential attendees apparently weren't diverse enough to provide necessary perspectives and fully represent the area.
"Humboldt County organizers and supporters of the annual Women's March have decided to not hold a rally in Eureka on January 19th,"  according to a press release issued by the Humboldt County organizing committee. "This decision was made after many conversations between local social-change organizers and supporters of the march."
"Thank you to the women and men who helped make this decision," the statement says.
The press release notes the trouble posed by the lack of diversity:
Up to this point, the participants have been overwhelmingly white, lacking representation from several perspectives in our community. Instead of pushing forward with crucial voices absent, the organizing team will take time for more outreach. Our goal is that planning will continue and we will be successful in creating an event that will build power and community engagement through connection between women that seek to improve the lives of all in our community
The Humboldt County organizers also said that they plan on "continuing to meet and discuss how to broaden representation in the organizing committee to create an event that represents and supports peoples who live" in the area. The group is also looking into planning another event in March in order to commemorate International Women's Day, according to the press release.
Response to the cancellation–and reaction to the reasoning for said cancellation–on the group's Facebook page has been overwhelmingly positive. Some commenters, however, have posted harshly in response.
One Facebook user posted: "Our crowd wasnt [sic] brown enough? Wasnt [sic] queer enough? Wasnt [sic] transgender enough?"
In response to that post, another user took aim at the organizing committee.
"Local Organizers have let themselves be duped," she wrote. "What kind of crowd do they expect when you have 77.86% of the population being White? Organizers PLEASE RECONSIDER!!!"
Still other users posted in support of the decision.
"Much respect!" said a pro-cancellation voice. "The amount of white women snarling angrily at an attempt to further diversify the event is a huge indicator as to why this was such an important move."
Another user posted a thoroughgoing and constructive criticism of the marches in general while crediting the cancellation:
I applaud the decision… I have boycotted the march since the beginning as it has been a process that by default has incorporated institutional racism, transphobia and a lack of support of sex workers. A march that, intentional or not, ignores intersectionalism and the inherent racism of current feminist movements. I have boycotted the Woman's march since the beginning for these reasons and I applaud the introspection and awareness shown here as well as the move to work to be MORE inclusive. Google any of these issues and you will see articles written by many POC and LGBTQ individuals and others. Even in this small space, whites are NOT creating space for those who are trying to speak and are instead focused only on their own sense of injustice. This group LISTENED to community members. This march has unfortunately, intentionally or not, become an event that silences any voice that is not a cis white woman's voice. White woman voices are NOT the only voices and I intend to support a group that is trying to create space and voice for those not included.
[image via Ethan Miller/Getty Images]
Have a tip we should know? [email protected]