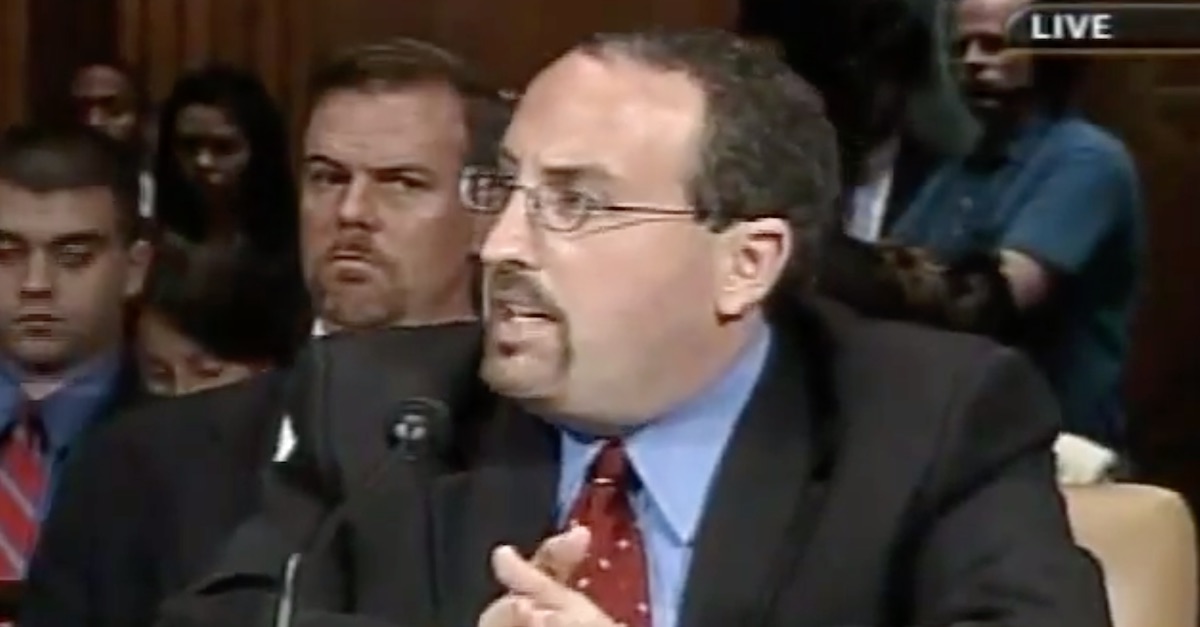 A former George W. Bush White House official who was found by the Inspector General to have lied to Congress and violated federal law when hiring for the Department of Justice's Civil Rights Division has been hired as outside counsel by Ford County and the Ford County Clerk's Office. Why? To handle the ongoing controversy surrounding the removal of a lone polling location from the Hispanic majority city of Dodge City, Kansas.
According to the Dodge City Daily Globe, Ford County Administrator J.D. Gilbert announced in a press release on Monday that Hinkle Law Firm attorney Bradley Schlozman will be handing "media related requests" given that an American Civil Liberties Union (ACLU) is ramping up efforts to sue.
Schlozman was at the center of a controversy of his own making back in the early 2000s, when some of his emails came under the scrutiny of Congress. He was a person who hired for positions at the Civil Rights Division. From CBS News at the time:
Schlozman evidently made no secret of his agenda in personnel matters. Andrew Lelling, a former counsel to Boyd, told investigators that Schlozman "was always very unapologetically clear about the kind of people he wanted hired into the Department. … [H]e want[ed] people in the Department who [were] conservative on the legal issues, maybe conservative period."

In e-mails Schlozman would make frequent use of descriptions like "real American," "right-thinking American," "fine young [A]mericans," and being "a member of the team" to refer to conservative applicants and attorneys. Conversely, applicants or attorneys who were viewed as not conservative would be described as "commies," "libs," "pinkos," "not one of us," "not on the team," and "adherents of Mao's little red book." He said one attorney was "a Democrat in hiding and is not going to hide in my Appellate Section."
In another email from 2003, he reportedly said "My tentative plans are to gerrymander all of those crazy libs rights out of the section."
Law&Crime reached out to Schlozman for comment, but he has not yet responded to our request.
As Law&Crime previously reported, it was announced that Dodge City, a 60 percent Hispanic majority city, would be moving the lone polling location within the city limits outside of town, in a move widely perceived as an open effort to suppress the vote.
Gilbert explained the move by saying that there was a major construction project in the works and and "public safety" concerns.
"Dodge City has maintained a single polling place for all elections for more than two decades," he said in the press release. "A new polling location had to be selected for the upcoming Nov. 6, general election in the interest of public safety because the previously-used polling place – the Civic Center and parking areas – will soon be used as a staging area for a major construction project."
Gilbert further said that there was "no intent" to discriminate.
"The County Election Officer chose the Western State Bank Expo Center as an alternative due to the fact that the county owns the building, carries insurance to cover crowds, is designed for large crowds specifically, has adequate parking, is fully compliant with the Americans with Disabilities Act, and is already part of the county's operations and planning in relation to severe weather and security response," Gilbert continued. "There was no intent whatsoever to discriminate against any group of voters in the selection of this location nor will its use have the effect of discriminating any group of voters."
According to The Wichita Eagle, Dodge City is now at least 60 percent Hispanic–and since Hispanic voters overwhelmingly choose Democrats over Republicans, the paper said, the removal of the city's lone polling station "could be a factor in Kansas' tight governor's race featuring a champion of immigration restrictions, Republican [Secretary of State] Kris Kobach [and] Democratic state Senator Laura Kelly."
Local Democrats and voting rights advocates have claimed this was no coincidence.
Johnny Dunlap is the chairman of the Ford County Democratic Party. Dodge City is the Ford County seat. In comments to the Eagle, Dunlap blasted the change–which occurred just weeks ago–for its likely impact on turnout during this year's highly contested midterm elections.
"It is shocking that we only have one polling place, but that is only kind of scratching the surface of the problem," Dunlap said. "On top of that, not only is it irrational and ridiculous that we have only one polling place, but Dodge City is one of the few minority-majority cities in the state."
The city's voter rolls contain in excess of 13,000 eligible individuals. The average Kansas polling site serves around 1,200 voters during any given election. The ACLU of Kansas argued that this disparity makes Dodge City's sole location, "one of the most burdened polling places in all of Kansas."
"Thousands of Hispanic voters on the south side of town now have a harder time voting," ACLU of Kansas Executive Director Micah Kubic said.
Colin Kalmbacher contributed to this report. 
[Image via YouTube screengrab]
Have a tip we should know? [email protected]