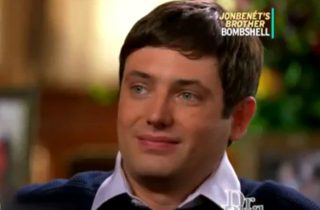 Burke Ramsey was not kidding when he said he would go after those 'falsely' claiming he killed his sister, JonBenet Ramsey. LawNewz.com has now learned that he's filed a $150 million defamation lawsuit against Dr. Werner Spitz, a famous forensic pathologist who has worked on a number of high-profile cases. The lawsuit stems, in part, from statements Spitz made to a local CBS station.  Dr. Spitz told CBS Detroit:
"If you really, really use your free time to think about this case, you cannot come to a different conclusion. It's the boy (Burke Ramsey) who did it (murdered JonBenet), whether he was jealous, or mentally unfit or something.. I don't know the why. I'm not a psychiatrist, but what I am sure about is what I know about him, that is what happened here. And the parents changed the scene to make it look like something it wasn't."
The murder of 6-year-old JonBenet remains unsolved to this day. In 1996, she was found dead in the Ramsey family home covered by a blanket with her hands tied over her head. She died of a fractured skull. Spitz told the station that the rest of the scene was "staged," likely by the parents. The case recently received renewed coverage because of the approaching 20th Anniversary of the young girl's death.
In a lawsuit filed Thursday in Wayne County, Michigan, Burke Ramsey accused Spitz of "making  unsupported, false and sensational statements and accusation."
Lin Wood, who serves as Burke Ramsey's attorney ,continued in the complaint:
"At the time he uttered the false and defamatory accusation against Burke Ramsey, Defendant Sptiz had actual knowledge that since at least 1998, Burke Ramsey has never been considered a suspect in the investigation into JonBenet's murder by the Boulder Police Department or the Boulder District Attorney's office."
The lawsuit claims that Spitz inserted him into the case for the purpose of "self-promotion and publicity." Attached to the complaint is an affidavit signed by theformer Boulder County District Attorney Alexander Hunter on October 3, 2002. "From December 26, 1996, to the date of this affidavit, no evidence has ever been developed in the investigation to justify elevating Burke Ramsey's status from that of witness to suspect," Hunter wrote.
Spitz also participated in a recent CBS docuseries which also pointed the finger at Burke Ramsey. Dr. Spitz's assistant said he had no comment on the lawsuit.  Ramsey is seeking $50 million dollars in compensatory damages and $150 million in punitive damages. Spitz has been involved in many high-profile cases including testifying for the defense in the Casey Anthony murder case.  Wood, Burke Ramsey's attorney, told LawNewz.com he plans to file an additional claim against CBS. Attached to the complaint was a signed affidavit.
Read full complaint obtained by LawNewz.com:
Burke Ramsey vs. Werner Spitz by LawNewz on Scribd
[image via Dr. Phil]
Have a tip we should know? [email protected]
Rachel Stockman - Editor in Chief / On Air Host