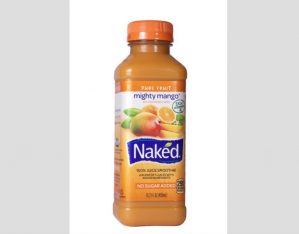 A class action lawsuit alleges the "no sugar added" claim on the label of Naked brand juice bottles misleads consumers because it downplays the less nutritious ingredients contained in popular the drinks.
According to Today.com, the lawsuit was filed by the Center for Science in the Public Interest (CSPI) on behalf of consumers who "feel duped" by the claims made on the Naked Juice labels. The lawsuit alleges the Naked Juice label is designed in a way to highlight certain ingredients like kale, while drawing away attention from the fruit juice component that makes up the main ingredient of the juices.
"There is a disconnect between the label and the product," CSPI director of litigation Maia Kats said to Today.com. "It's not unlawful to sell a beverage that is not healthy. The issue here is people think they are doing something good for themselves by drinking this. Therein, lies the problem."
She added, "They are offering something that has as much sugar as a can of Pepsi, which is something we would never imagine from looking at the label."
CSPI claims a 15-ounce bottle of Naked Juice: Kale Blazer contains 8 teaspoons of sugar fruits and vegetables, compared to a 12-ounce bottle of Pepsi that contains 10 teaspoons of added sugar.
Naked Juice, which is owned by PepsiCo, has vigorously denied the allegations in the lawsuit and claims it labels clearly identify all of the ingredients contained in the juices.
"We believe this lawsuit is baseless," Andrea Theodore, vice president and general manager of Naked Juice said.  "We have made an effort to make sure that consumers are clear that we don't add any sugars and they all come from natural fruits and vegetables. I think we're extremely transparent about what's in the product."
[image via Sheila Fitzgerald / Shutterstock]
Have a tip we should know? [email protected]