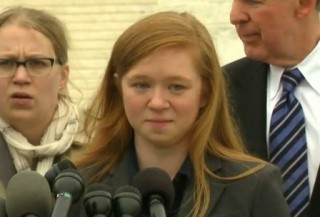 The Supreme Court ruled in favor of a university that included race as part of their decisions for accepting students on Thursday. The University of Texas had been sued by Abigail Fisher (pictured here), a white student who was denied admission and claimed that the consideration of race hurt her, violating her equal protection rights.
The school had previously ignored race when evaluating applicants, but claimed that this approach did not satisfy its wishes for a diverse student body. In 2004, they changed their approach, automatically accepting students who were in the top ten percent of their high school class (as per Texas state law), and then looking at a student's "Personal Achievement Index," a holistic system that takes into account a number of factors, race being among them.
The Court held that the University of Texas acted appropriately because they had "concrete and precise goals" that justified their methods, and provided evidence that other methods did not achieve their goals. The school claimed that there is an educational interest in having a diverse student body, because it provides "cross-racial understanding," preparation for "an increasingly diverse workforce and society," and "cultivat[es] leaders with 'legitimacy in the eyes of the citizenry.'" The Court has approved similar interests in past cases. The school had a 39-page report that was written after a year-long study showed that its past race-neutral criteria did not meet those goals.
The decision was the result of a 4-3 vote. Justice Kagan did not participate, as she was the Solicitor General when the Department of Justice filed an amicus curiae (friend of the court) brief in the case when it was being heard by the Fifth Circuit Court of Appeals, according to SCOTUSblog. Justice Kennedy wrote the Court's opinion, which was joined by Justices Ginsburg, Breyer, and Sotomayor. Justices Thomas, Alito, and Roberts dissented.
Update 6/23/16 11:53am: Texas State Attorney General Ken Paxton, who did not represent the school before the Court, issued a statement expressing displeasure over the Court's decision."Less than 10 years ago, the Supreme Court said that '[t]he way to stop discrimination on the basis of race is to stop discriminating on the basis of race.'  Sadly, the Court today has departed from that guiding principle," Paxton said. "The University of Texas is one of the finest educational institutions in the world. The opportunities it offers should be available to all students based on their merit, not the color of their skin.
Here is a copy of the opinion. 
Have a tip we should know? [email protected]