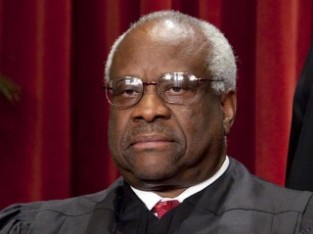 A female attorney claims she was groped by Supreme Court Justice Clarance Thomas at a dinner party in 1999, according to a new report.
Moira Smith told the National Law Journal  the incident happened when she was 23-years-old during a dinner party she attended as part of the Truman Scholars program.
"He groped me while I was setting the table, suggesting I should sit 'right next to him,'" Smith said.  She further accused Thomas of grabbing her buttocks several times during the evening.
The National Law Journal says it spoke with three of Smith's roommates from back in 1999 and they recalled her mentioning the inappropriate touching incident at the time.
However, a Supreme Court spokesperson released a statement Thomas's behalf, vehemently denying the claims.
"This claim is preposterous and it never happened," Thomas said, through the spokesperson.
The outlet also spoke with three other individuals who attended the dinner that said they had no knowledge of the claims.  Louis Blair, the then-head of he Truman Foundation, even questioned whether Thomas ever would have been alone with a guest at the party.
Another allegation of sexual harassment against Thomas came from Anita Hill during his contentious Senate confirmation hearing back in 1991. Hill claimed she was sexually harassed by Thomas when she worked for him at the U.S. Department of Education's Office of Civil Rights and at the Equal Employment Opportunity Commission.  Thomas vigorously denied Hill's accusations and was ultimately confirmed to the high court.
This is a breaking story and LawNewz.com will provide updates as more information becomes available.
Have a tip we should know? [email protected]