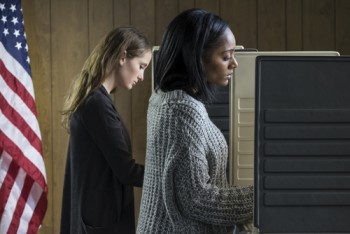 LawNewz.com has confirmed a federal judge in New York has scheduled a hearing for 2:00 p.m. on Tuesday in a lawsuit filed by the activist group Election Justice USA on behalf of over 200 New Yorkers who can't vote for the candidate of their choice on Tuesday because they say their voter party registration was suddenly changed without their consent. The lawsuit could impact tens of thousands of independent voters in the state, and comes as millions of New Yorkers head to the polls for the state's primary.
The lawsuit asks the court to enter an order allowing New York primary voters to vote for any candidate on the ballot, regardless of their party affiliation.  New York is a closed primary state that requires primary voters to register with the party whose primary they wish to vote in. The plaintiffs filed for an emergency hearing.
Election Justice USA encouraged voters who had their registration changed to cast provisional ballots on Tuesday.  If the lawsuit is successful, those provisional ballots will be counted as valid votes.
Stay with LawNewz.com for updates on this breaking story.
UPDATE 1:45 p.m. 
TYT Network reporter Jordan Chariton interviewed Blaire Fellows and Jonathan Clarke, the attorneys who filed the emergency lawsuit, outside the federal courthouse on Tuesday afternoon.
WATCH:
In the interview, Clarke acknowledged that their request to make New York an open primary is unlikely to be granted, so they plan to focus on the more narrow issue of obtaining relief for voters who were previously registered as democrats but who now find themselves erroneously stricken from Democratic Party voter rolls.  The goal is place the burden on the board of elections to prove that a voter intended to change their party registration.  Clarke also said that as many as 100,000 Democrats were purged from the voter rolls in Brooklyn alone.
Update 5:15 pm
A federal judge did not grant the immediate relief the plaintiffs requested, however, she did allow the lawsuit to proceed and scheduled another hearing to take place at a later date. Read full report on what happened during hearing here.
[image via shutterstock]
Have a tip we should know? [email protected]