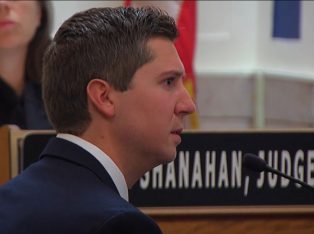 Judge Megan Shanahan declared a mistrial in the trial of former University of Cincinnati police officer Ray Tensing.  Tensing was charged with murder and voluntary manslaughter in connection with the shooting death of motorist Sam DuBose.  Tensing shot DuBose during a traffic stop in July 2015. After several days of deliberations, the jury was hung, and so the judge was forced to declare a mistrial early Saturday morning
WATCH JUDGE DECLARES MISTRIAL:
There was never any doubt that Tensing shot DuBose, so the main question at the trial was whether Tensing had a reasonable belief that DuBose posed a threat to cause him death or great bodily harm.  Based on the testimony, that question seemed to hinge on whether jurors believed the defense's argument that Tensing thought he was being dragged by DuBose's vehicle at the time he fired the shot.
During closing arguments, prosecutors tried to drive home their theory that DuBose's vehicle did not move before the fatal shot was fired.
Assistant Hamilton County Prosecutor Mark Piepmeier told jurors, "Mr. Tensing was not dragged" by  the DuBose's vehicle. Piepmeier argued the physical showed Tensing only "ran along the car a short distance, stumbled and fell."   He also reminded jurors that the prosecution's video expert concluded the vehicle did not move before the shot was fired.
The defense stressed during closing argument that DuBose knew he had a large amount of marijuana and probable drug money in possession and that is why he tried to flee.
Attorney Stew Matthews also said the body camera does not necessarily tell the whole story about what Tensing was feeling at the time he fired the fatal shot.  He also asked the jurors to put themselves in Tensing's shoes when making that decision.
"Ask yourselves, would I have done anything different to protect myself?" Matthews asked jurors.
After approximately 22 hours of deliberations over portions of three days, jurors informed Judge Shanahan on Friday evening that they would need to return on Saturday morning to continue deliberations. They came back Saturday, unable to come up with a verdict.
This a breaking news story and LawNewz.com will provide updates as more information becomes available.  
[image via screengrab]
Have a tip we should know? [email protected]