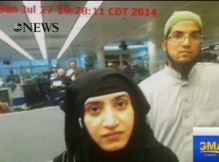 FBI officials have informed ABC News that their investigation into the San Bernardino terrorist attack have not ruled out the possibility of a third attacker, in addition to Syed Farook and Tashfeen Malik.
On the day of the attacks, some witnesses had informed reporters and law enforcement officials that they saw three gunmen and the Inland Regional Center where the shootings took place.
The FBI had identified Enrique Marquez as the man who purchased weapons that were used for the shooting, but officials have yet to confirm or rule out whether he or any other accomplices were present at the scene of the attack.
[UPDATED: 4:35 p.m.]
FBI officials have confirmed that they served a search warrant at the 1700 block of Forum Way in Corona, California this afternoon. That address is believed to be the residence of Farook's brother, Syed Rizwan.
"Federal agents executed a search warrant at a residence in Corona this morning to seek evidence in an ongoing investigation," FBI spokeswoman Laura Eimiller said. No arrests were made.
Stay with LawNewz for updates on this story as it develops.
[h/t and screengrab via ABC News]
Have a tip we should know? [email protected]