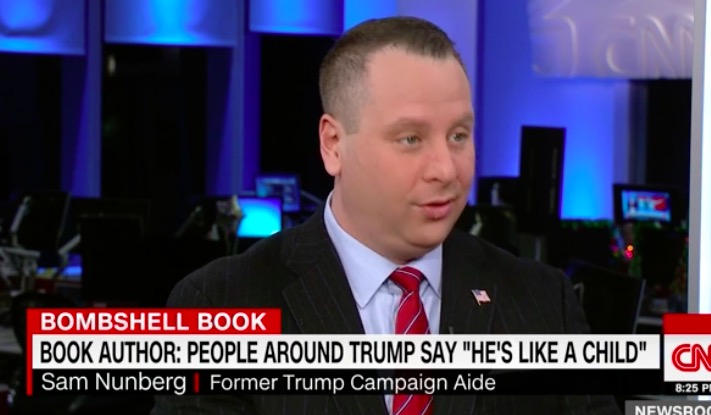 During the election, the attorney for ex-Trump aide Sam Nunberg, who has recently made headlines for his completely unhinged media tour lambasting his former boss, told Law & Crime that Trump ran a "secret shadow operation." Nunberg's team made the claim after Donald Trump sued him for $10 million for allegedly leaking confidential information to the The New Post. 
The issue came to light when Nunberg, who worked as a consultant to Trump in 2015, realized he had signed a confidentiality agreement with an entity called Trump 2012 PCA. 
Upon further investigation, Nunberg's attorneys realized Trump 2012 PCA didn't appear to be registered in New York.  In fact, attorneys for Nunberg told Law&Crime they couldn't find it existing anywhere. In addition, Nunberg's mother, Rebecca Nunberg, a corporate attorney, told us that her son received at least two paychecks from Trump 2016 PCA, which also doesn't appear to be registered with the New York Secretary of State's Office. Before the 2016 election, she said that Nunberg never received any IRS 1099 forms, which are usually issued by companies who hire contract workers like Nunberg. It's not clear if those forms were ever sent out because neither Nunberg, his attorneys or Trump's attorneys have responded to an inquiry following up on this story.
Law&Crime was also unable to find the company registered in New York, Delaware or with the FEC.
"If you are an independent contractor and you are paid more than $600 you are required by the IRS, if you pay someone, that entity is obligated to issue a 1099 to the person they are paying," Rebecca Nunberg told Law & Crime during an interview in July 2016. Nunberg is a high profile corporate attorney herself.
Here is a copy of the confidentiality agreement. It is labeled exhibit "A." The agreement is signed by Donald Trump on behalf of Trump 2012 PCA. Oddly enough, the contract is dated January 1, 2015. Trump 2012 PCA was reportedly  set up when Trump was flirting with running for President in 2012. It is not clear why he was still signing business contracts under that name during the 2016 election.
"If it's not a real entity what role does it or did it have in the campaign.. the 2012 presidential cycle is over, why would they use that type of entity to sue raises a whole host of questions," Andrew Miltenberg, who worked as Nunberg's attorney told us at the time.
Nunberg also brought this up in a court filing, trying to fight what his team contended was an "unauthorized demand for" secret arbitration:
Trump 2012 PCA was not used by Mr. Trump in connection with the 2016 presidential campaign, and it would inappropriate and confusing for Mr. Trump to do so for purposed of the 2016 presidential campaign cycle and pursuant to the Federal Elections Law and its reporting requirements governing campaign finances during the 2016 presidential campaign cycle.
Nunberg worked as a consultant to Donald Trump from around January 2015 to August 2015, when he was fired. Trump's attorneys accused Nunberg of leaking a story about former campaign manager Corey Lewandowski and  Hope Hicks getting into a screaming match on the streets of New York City.  Nunberg's parents, who attended a hearing at the New York Supreme Court in July 2016, questioned how their son could have possibly leaked the story if he had left the campaign 8 months earlier.
It is not clear how the lawsuit was resolved, or if it is still pending. Questions from Law&Crime to all sides have not been answered as of this posting.
Have a tip we should know? [email protected]
Rachel Stockman - President / On Air Host