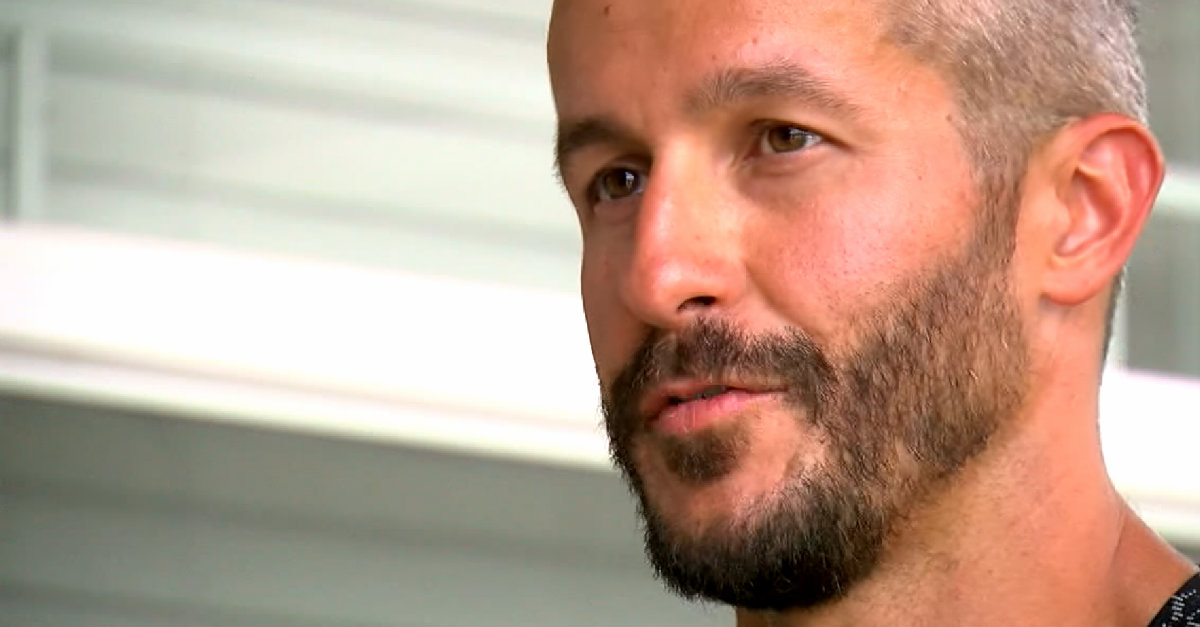 Chris Watts, the Colorado man who was accused of murdering his pregnant wife and his two daughters, has reportedly reached a plea deal with prosecutors on Tuesday in an effort to avoid the death penalty.
A status hearing in Watts' case had been scheduled for Nov. 19, but was moved without explanation to today, Tuesday, Nov. 6. It appears this plea deal is the reason why.
Watts shocked the nation in August when he went on local news and begged for help finding his missing wife and daughters. Not long after that, authorities arrested him for the murders of Shanann Watts, four-year-old Bella, and three-year-old Celeste. Watts was also charged for terminating his wife's pregnancy.
Shanann Watts' dad, mom and brother were there in court on Tuesday.
9News Denver reported that Watts pleaded guilty to all charges of murder, unlawful termination of a pregnancy and tampering with a deceased human body. Watts had also claimed that he killed his wife because she strangled their daughters. The plea deal indicates otherwise.
The aforementioned infamous ABC 7 interview Watts agreed to do went on for several minutes. Watts looked into the camera and said "Shanann, Bella, Celeste… if you're out there, just come back."
"I walked in the house and — nothing," he said. "She wasn't here. The kids weren't here." Watts' explanations of what he thought happened were vague.
"She said she was going to a friend's house with the kids and that's the last thing I heard, and that was it. It was very vague," he said. Watts also said "I believe that she is somewhere and I hope that she is safe."
"I don't know what to do right now. I just feel so alone in this house right now. I don't know where to go from here," he added. "If somebody has her, please bring her. … This house is not complete without anybody here. Please bring them back."
ABC 7 later reported that Watts confessed to killing is wife and two daughters. Celeste was 3 years old and Bella was 4. His wife was 15 weeks pregnant. Police indicated that Watts would lead them to the bodies. Eventually, all three victims were found dead on a property where Watts worked.  The girls were found dead in "mostly full" oil and gas tanks. Authorities said that this was done to hide the smell of decomposing bodies.
Just days before Shanann Watts and her two daughters went missing, the Watts family attended a children's birthday party at a friend's house, a family friend said.
Jeremy Lindstrom told Denver7 that the "why" of it all is what he is struggling to understand. Lindstrom had recently hosted the Watts family at a birthday party for his son. He said that he was close to them.
"You know, the hardest part about it all is – when you're closer to the family … is the 'why?'" he said. "The why gets bigger."
"We're dumbfounded. We don't get it. Lost," he added. "It's just horrible. Why do people do this? Why does it come down to this?"
Lindstrom said that Watts was the kind of guy who would help you out whenever you needed.
"He would reach out and help anybody that needed help with anything," he said. "He was a good mechanic if you needed help with your car – he'd help you. If you needed help with furniture, he'd be over there in a heartbeat to help you out. You don't know what, when, why, where or how everything goes weird."
Neighbor and friend Ashley Bell told CBS4 she couldn't believe the Christopher Watts she knew could have murdered his family and then gone on television to ask for help in finding them.
"I kept telling myself, no no he wouldn't do anything to her giving him the benefit of the doubt," Bell said.
Nick and Amanda Thayer were also blindsided by the news that their friend, Watts, was charged with murder. The couple took Watts in after his family went missing.
Amanda Thayer said that their "48-to-72 hours" with Watts "he was his normal self."
"He never once cried," she added.
[Image via Denver7 screengrab]
Have a tip we should know? [email protected]