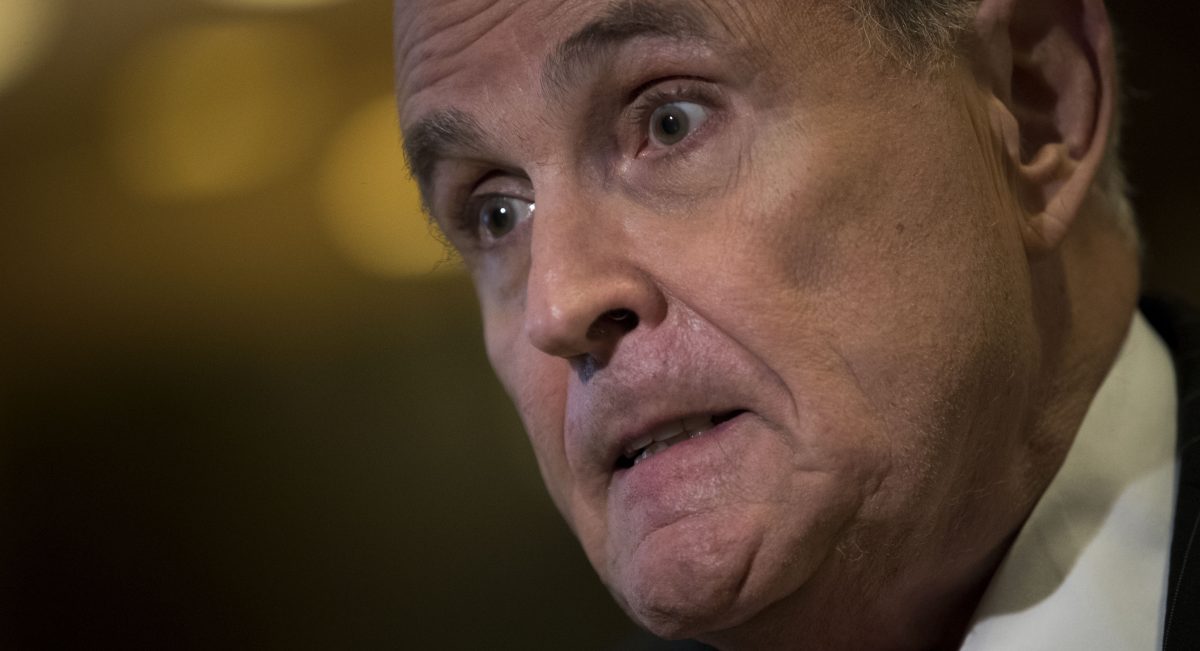 Rudy Giuliani's adventurous tenure as Donald Trump's attorney took a turn for the amusing on Friday when both Michael Cohen and Trump said he didn't know what he was talking about, although differing in degree in how they said that.
"We're not changing any stories," President Donald Trump told reporters from the Joint Base Andrews tarmac on Friday while saying at another time today that Rudy Giuliani is new at this case and will "get his facts straight."
Not having your facts straight is another way of saying he got his facts wrong.
Cohen, on the other hand, was much more direct.
NBC's Willie Geist tweeted this morning that Cohen told Donny Deutsch "Rudy Giuliani doesn't know what he's talking about" regarding the Stormy Daniels payment or repayment, as Giuliani himself put it Wednesday night.
Let's recap a little:
Giuliani said on Hannity Wednesday night that the Daniels money was "funneled […] through the law firm and the president repaid it." He said Trump "didn't know about the specifics of it," as far as he knew, but "he did know about the general arrangement, that Michael would take care of things like this, like I take care of things like this for my clients." He also said that in the end this would "turn out to be perfectly legal" and that the money wasn't campaign money.
Giuliani then said Thursday morning on Fox & Friends that "Cohen made it go away."
"Imagine if [the Daniels story] came out on October 15, 2016 in the middle of the last debate with Hillary Clinton," he said. "Cohen didn't even ask. Cohen made it go away. He did his job."
Not only do some say the Giuliani comments might mean Trump filed a false financial disclosure, the comments were news to everyone else because before this point Trump had little to nothing to say about the Daniels payment.
Remember Air Force One?
Trump, when asked in early April about the alleged Daniels payment on Air Force One, said, "You have to ask Michael Cohen. Michael Cohen is my attorney, you'll have to ask him."
When asked pointedly if he knew about the Stormy Daniels payment, Trump replied "No." When asked why his lawyer Michael Cohen made the payment, he said "ask Michael Cohen."
Finally, when asked if he knew where the money came from, Trump said, "No, I don't know."
What Giuliani said Wednesday and Thursday was: Yes, the payment happened because can you imagine what would have happened if it didn't, yes Trump knew about it and, yes, Trump, reimbursed Cohen for it.
Trump reacted to all of this on Friday by saying Rudy is a great guy, who's seen a lot of witch hunts and has never seen anything so witch hunty.
"He knows it's a witch hunt, that's what he knows and he's seen a lot of them," Trump says. "He said he's never seen something so horrible."
"So, Rudy knows it's a witch hunt, he started yesterday, he'll get his facts straight, he's a great guy," he continued.
All of this really makes one wonder what the three Trump tweets about the matter from Thursday were for.
These words echo what Giuliani said: there was a payment, but not with campaign funds; there was a reimbursement; the agreement happened to stop Daniels from going public with statements about an affair.
Update: Here's what Giuliani said in a statement Friday afternoon.
[Image via Drew Angerer/Getty Images]
Have a tip we should know? [email protected]