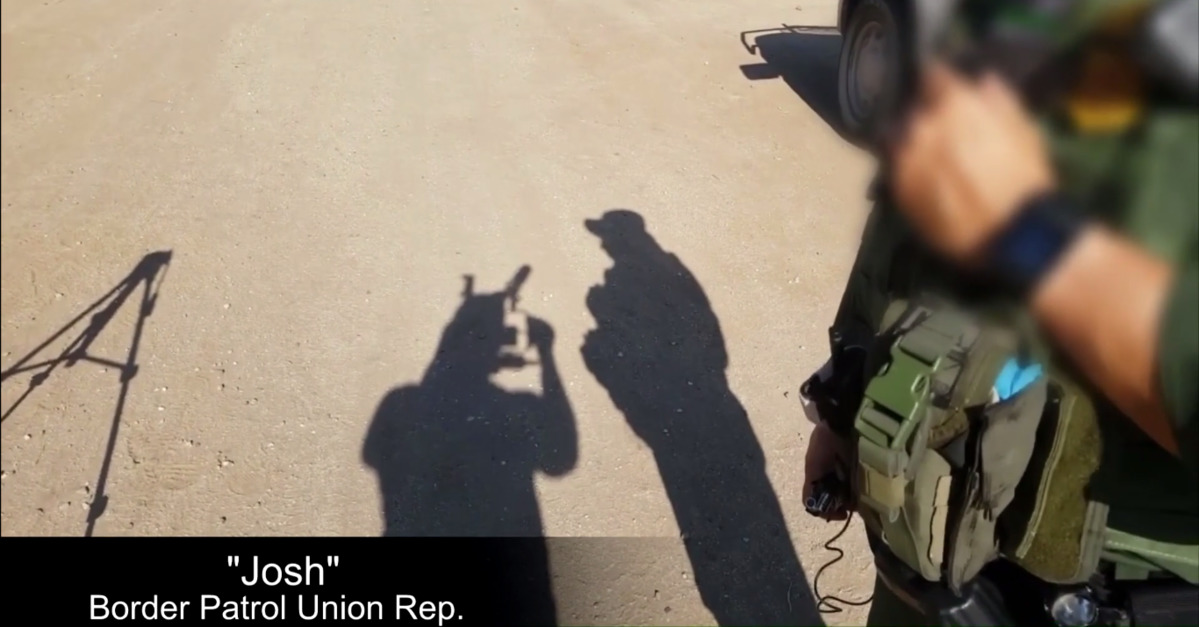 The official union which bargains for and represents U.S. Border Patrol agents nationwide appears with several white nationalists and members of the far-right Proud Boys street gang in a new video titled "Killing Free Speech."
The Intercept's Melissa del Bosque reports that the National Border Patrol Council (NBPC) recently "endorsed" the controversial video and held a private screening for Border Patrol agents in San Diego. According to NBPC union representative Terence Shigg, the union plans to hold additional screenings somewhere in Texas, Los Angeles County and Washington, D.C.
The video was directed by Danish immigrant Michael Hansen. His directorial debut was the documentary "Killing Europe," an Islamophobic affair which argues that immigration is destroying Europe. Hansen's first film was glowingly reviewed by white nationalist media personality Richard Spencer.
In "Killing Free Speech," Hansen makes essentially the same argument, that immigrants and Islam, along with anti-fascist deplatforming tactics and political correctness, are an existential threat to the United States.
"Their first target is free speech," the director declares to a camera on his sedan's dashboard as he drives down a road. At another point, Hansen's film proclaims that Democrats are "dark and evil."
Aside from Hansen's own opinions, the documentary features several members of the Proud Boys gang–a transnational group which regularly engages in acts of political violence across the country. Several members of the Proud Boys also took part in the deadly "Unite the Right" rallies in Charlottesville, Virginia–which ultimately claimed the life of 32-year-old socialist Heather Heyer.
Self-described "western chauvinists," the group was formed in early 2016 by Canadian podcast personality Gavin McInnes. Several members of the group are currently facing multiple charges over recent attacks against passersby on Manhattan's Upper East Side. On October 12, dozens of Proud Boys were filmed beating and punching at least three individuals. On Tuesday, Maxwell Hare, a 26-year-old member of the Proud Boys was arraigned on felony gang assault charges over allegations that he "threw the first punch" at a group of anti-fascist protesters.
In "Killing Free Speech," Hansen rides on a bus with several members of the Proud Boys. The director then interviews Shigg, a Border Patrol agent identified only as "Josh" and Chris Harris, the former director of legislative and political affairs for the NBPC's San Diego Chapter. During this interview, Harris criticizes and defends the Trump administration's family separation policy.
"[Family separation was] not as humane as it could be because the U.S. government could do better," Harris notes. "But let's be brutally honest, nothing was inhumane." Shigg also offers his own perspective on the immigration issue–specifically semantic choices in media coverage. He says:
More and more [they are] trying to take away the legal terms that describe people that are coming to the United States and that are breaking the law. They want to put all of them into one group–which is "immigrant."
Bosque questioned Shigg about his decision to appear in a video featuring several white nationalists.
"Out intent was to have a dialogue," the union representative said. "We didn't fund it. We didn't write it. Part of the whole thing is free speech. He has the right to make that and put that information out there."
The U.S. Border Patrol operates directly under the authority of U.S. Customs and Border Protection (CBP) as the federal agency's uniformed law enforcement arm. The CBP took a slightly more critical approach toward the controversial film.
"CBP does not endorse this video or the contents thereof," the parent agency noted in a statement. "[The] video…was not coordinated, sponsored, produced or approved by [CBP]."
[image via screengrab/"Killing Free Speech"]
Follow Colin Kalmbacher on Twitter: @colinkalmbacher
Have a tip we should know? [email protected]