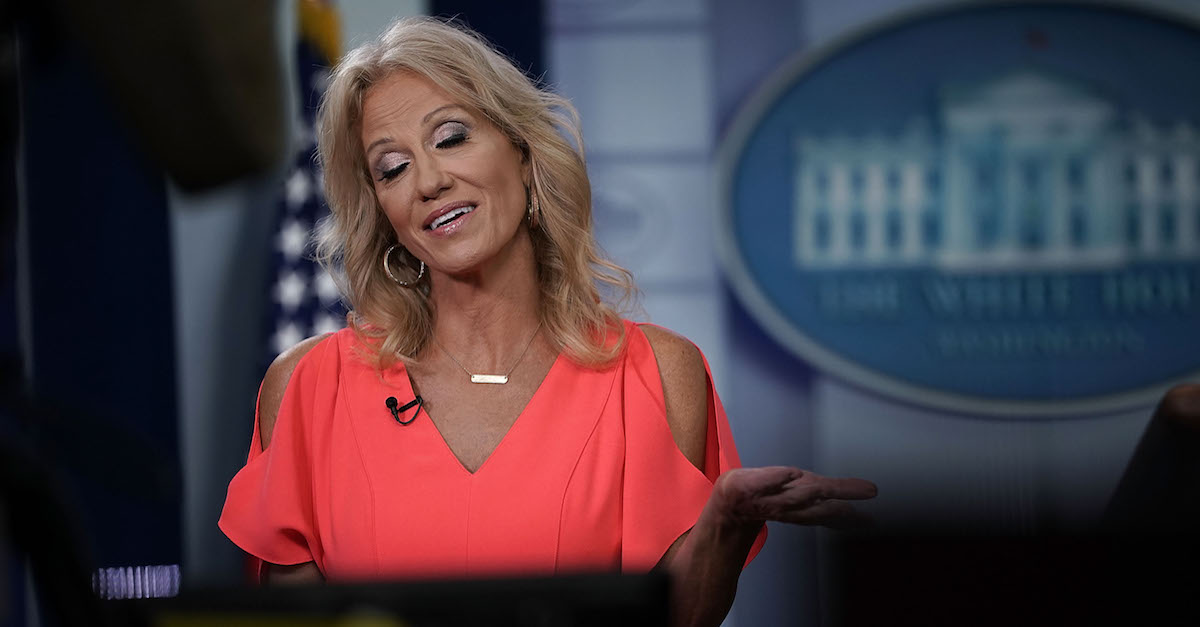 Citizens for Responsibility and Ethics in Washington (CREW) has announced that it has filed another complaint against Kellyanne Conway due to what it calls a "likely" violation of the Hatch Act. Conway serves as counselor to President Donald Trump.
CREW, an organization that uses "aggressive legal action, in-depth research, and bold communications to advance its mission of reducing the influence of money in politics and […] foster a government that is ethical and accountable," claims that Conway's use of her official government Twitter account amounts to an ethical violation because of her promotion of "partisan political messages."
It's alleged that Conway has used her @KellyannePolls Twitter account for "partisan political purposes on several occasions."
One of the examples given, amusingly, was Conway's tweeting of a Mediaite article about the Democratic Party using a photo of potential Supreme Court nominee Thomas Hardiman in a story critical of Brett Kavanaugh.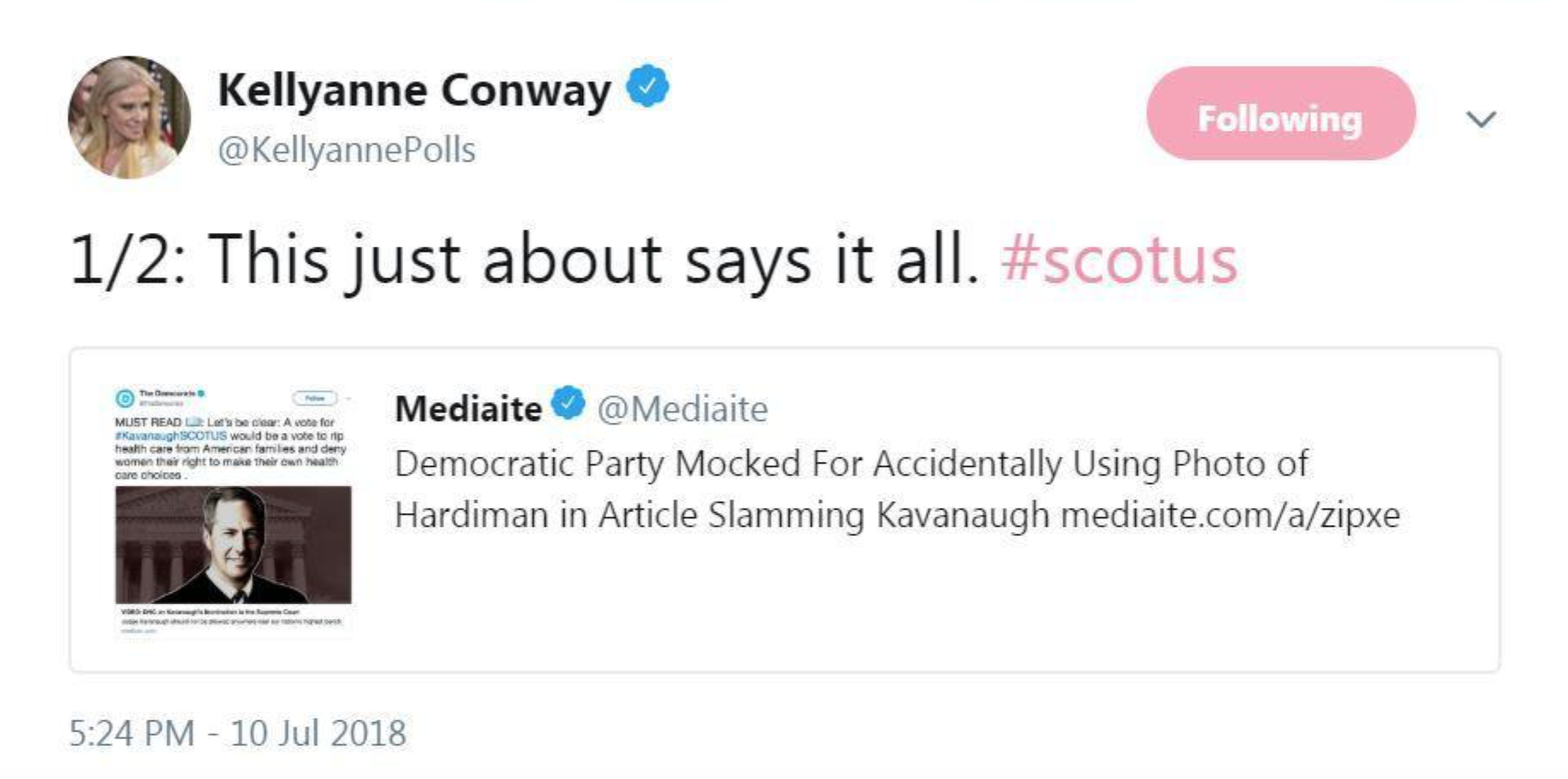 Kavanaugh has, of course, gone on to be sworn as a justice on the U.S. Supreme Court.
CREW also took issue with some of Conway's retweets, including a retweet of a Washington Examiner article headlined "Happy Days: Record low 12% worried about economy, great time to get a job." The story features an image of President Trump wearing a MAGA hat.
The organization pointed to the Office of Special Counsel's (OSC) "recent guidance" on social media activity for executive branch employees. That guidance says, all social media accounts must not "post or share messages directed at the success or failure of a political party, candidate in a partisan race, or partisan political group."
Those postings could include retweets:
Example 1: While accessing the Twitter account you use for official purposes, you see that a political party tweeted its support for a candidate in a partisan race. You may not retweet or like that post from the account used for official purposes (or from your personal social media account if you are on duty or in the workplace).
Additional guidance from OSC said such employees "on duty or in the workplace, […] may not: wear, display, or distribute items with the slogan "Make America Great Again" or any other materials from President Trump's 2016 or 2020 campaigns; use hashtags such as #MAGA or #ResistTrump in social media posts or other forums; or display non- official pictures of President Trump."
CREW Executive Director Noah Bookbinder said in a statement that it is "far past due for the Office of Special Counsel to consider additional measures to prevent the Trump Administration's ongoing abuse of government resources for partisan political activity."
"Never before have we seen such a pattern of continuous disregard for our laws and regulations that separate official government business from partisan campaigning. Enough is enough," Bookbinder added.
According to the OSC, the purpose of the Hatch Act in limiting political activities of federal employees working in the executive branch is to ensure "programs are administered in a nonpartisan fashion, to protect federal employees from political coercion in the workplace, and to ensure that federal employees are advanced based on merit and not based on political affiliation.​​​​"
The OSC says violations of the Hatch Act can result in "removal from federal service, reduction in grade, debarment from federal service for a period not to exceed 5 years, suspension, letter of reprimand, or a civil penalty not to exceed $1,000." Note that this is not a jailable offense.
CREW has previously complained about Conway's Twitter activity and credits itself for the reprimand Conway received from OSC in March. The group says Conway also received ethics counseling following its complaint about promotion of Ivanka Trump products.
Kellyanne Conway Hatch Act complaint by Law&Crime on Scribd
[Image via Alex Wong/Getty Images]
Have a tip we should know? [email protected]