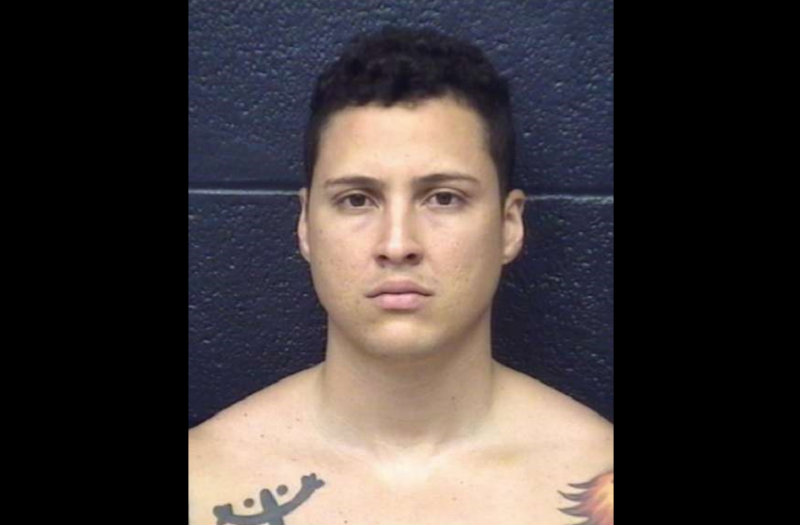 A U.S. Border Patrol agent in Texas is suspected of killing both a woman (who may have been his girlfriend) and her infant son. Ronald Anthony Burgos-Aviles, 28, remains held without bond at Webb County Jail on capital murder charges, according to records obtained by Law&Crime. The arrest led to the Laredo Police Department holding a joint press conference on Tuesday with the local district attorney and Border Patrol.
Cops said Burgos-Aviles called 911 on Monday to report finding the bodies at a park near the U.S.-Mexico border. It only took about an hour for investigators to target Burgos-Aviles as a person of interest in this case, and they figured out that he had some sort of romantic involvement with the female victim, said LPD Public Information Officer Joe Baeza. The precise details of that relationship remained unclear on Tuesday. The woman has been identified as 27-year-old Grizelda Hernandez. Her son, Dominick Alexander Hernandez, was a 1-year-old. Whether Burgos-Aviles was the child's father has still to be determined because the investigation is remains in its early stages, said Baeza.
He explained the precise timeline of the deaths is still being figured out, and he didn't answer a reporter's question as to whether Burgos-Aviles had previously faced domestic violence allegations, or internal issues as part of Border Patrol.
Webb County District Attorney Isidro Alainiz said more evidence must be collected before the decision is made as to whether to seek the death penalty.
The suspect has been identified as a Border Patrol supervisor, working there for nine years.
"The actions of this individual, if true, are both inexcusable and reprehensible," said Laredo sector chief Jason Owens. "No one is more sickened than we are at the thought of someone wearing this uniform committing such a heinous act."
He said the agency is cooperating with investigators.
Burgos-Aviles' attorney Silverio Martinez told Law&Crime his client maintained innocence from the moment of arrest.
"We have to start with the premise that everyone is innocent until proven guilty," he said.
Note: Updated with response from Martinez.
[Mugshot via Webb County]
Have a tip we should know? [email protected]