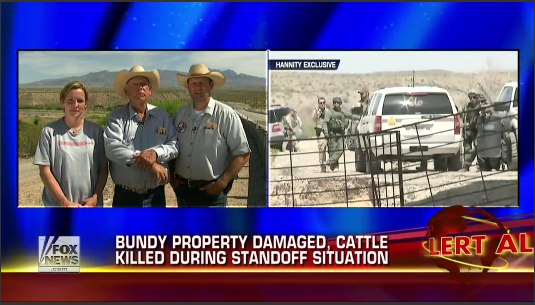 LAS VEGAS (AP) — A federal agent testified Wednesday that he saw a "sniper" behind a concrete barrier on a freeway overpass pointing a military-style weapon at him while a crowd of protesters in a dry river bed called for the government to release Nevada rancher Cliven Bundy's cattle in April 2014.
Bureau of Land Management Special Agent Michael Johnson told a U.S. District Court jury hearing a third day of evidence in Las Vegas that he'll never forget the feeling of fear, and that that he "absolutely" felt his life was in danger.
"There was a man with binoculars right next to him. He would periodically pop up," Johnson said, adding that he also saw the man he termed a "spotter" using a monocular range-finder to judge the distance between them.
Johnson testified he took cover for more than an hour behind a portable generator trailer, and never raised his handgun or AR-15 rifle at the overpass or at unarmed men, women and children in the wash below.
On Tuesday, another bureau agent, Rand Stover, testified for the prosecution that he too felt his life was threatened.
Under questioning by defendant Todd Engel, who is serving as his own lawyer, Johnson said Wednesday he saw other federal agents with weapons pointed toward protesters.
Engel tried to establish a timeline suggesting government officials were first to draw weapons.
No shots were fired during the tense standoff, and the cattle were eventually released.
Six defendants who prosecutors say wielded weapons are now standing trial on charges including conspiracy, firearm offenses and assault on a federal officer that could get them more than 100 years in federal prison.
Bundy and sons Ammon and Ryan Bundy are due to stand trial with two other men as a second group, after the first trial is over.
[image via Fox News]
Have a tip we should know? [email protected]