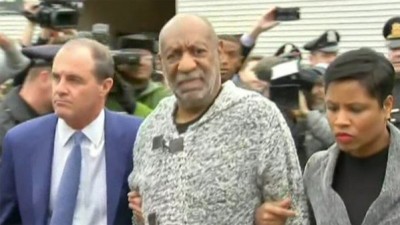 Bill Cosby's attorneys filed an appeal on Friday of a trial court judge's order denying his motion to dismiss the criminal sexual assault charges filed against him last December in Pennsylvania.
The 78-year-old actor and comedian has been accused by dozens of women of sexual assault going back decades in a number of lawsuits playing out in civil court due to the expiration of the criminal statute of limitations.  The Pennsylvania case, however, is the first time Cosby has faced criminal charges as a result of his alleged actions.
This case arises out of a 2004 sexual assault allegation made against Cosby by Andrea Constand that was not originally pursued criminally after Cosby and Constand reached a financial settlement in 2006. Former Pennsylvania District Attorney Bruce Castor's decision to not prosecute Cosby criminally went a long way in ultimately facilitating the civil settlement with Constand, because it allowed Cosby to answer questions under oath about the allegations in a deposition as part of the settlement process.  Had Cosby's attorney thought the civil deposition might later be used to file criminal charges against their client, they never would have allowed him to answer questions.
However, newly elected Pennsylvania District Kevin Steele — who ran on a platform to file charges against Cosby — decided to reopen the criminal case and filed charges against Cosby just prior to the expiration of the statute of limitations in December.  Cosby's deposition answers are now being used, in part, as the basis for the newly filed criminal charges.
Cosby's attorneys attempted to have the charges dismissed, citing the prior D.A.'s decision to not prosecute Cosby, however, Judge Steven O'Neill rejected the motion after a hearing held earlier this month.
On Friday, Cosby's attorneys filed an appeal of Judge O'Neill's denial of the dismissal, raising several related legal issues, including:
"whether the District Attorney's promise [to not prosecute Cosby] bound the Commonwealth; whether the Commonwealth is estopped from prosecuting Mr. Cosby, regardless of whether there was a valid agreement; and (again regardless of whether there was a valid agreement), whether Mr. Cosby's due process rights have been violated by the fact that the Commonwealth honored the commitment for more than a decade and then, after such a lengthy delay, elected to breach it and file charges after critical evidence had been lost."
If the appellate court decides to hear the case — which seems likely based on the issues raised — the preliminary hearing scheduled for March 8 will almost certainly be delayed, pending the outcome of the appeal.
[image via screengrab]
Have a tip we should know? [email protected]