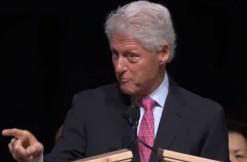 When Bill Clinton gives his opinion, he really gives his opinion. Speaking Friday for the Asian American Journalists Association in Las Vegas, the former U.S. President had this to say about the investigation into his wife's alleged mishandling of classified emails on a private server.
"They saw two little notes with a 'C' on it—this is the biggest load of bull I've ever heard—that were about telephone calls that she needed to make," he said. "The State Department typically puts a little 'C' on it to discourage people from discussing it in public in the event the secretary of state, whoever it is, doesn't make a telephone call. Does that sound threatening to the national security to you?"
WATCH:
In March 2015, news broke that Hillary Clinton mishandled work-related emails by placing these in a private server when she was Secretary of State. Certain messages included "C" markings, possibly indicating a classified status. This wasn't a good look, with commentators arguing whether or not she broke the law.
The FBI looked into this, and in July, Director James Comey declined to recommend charges against Clinton, the Democratic Party's presumptive nominee for president. It's not like he complimented her, though.
"We did not find clear evidence that Clinton intended to violate the law," he said, but, "There is evidence that they were extremely careless."
Comey announced that almost 100 emails were classified at the time they were sent.
The State Department recently reopened its own probe into the scandal, though this one doesn't include the possibility of criminal charges.
[Screengrab via GOP War Room]
–
Follow Alberto Luperon on Twitter (@Alberto Luperon)
Have a tip we should know? [email protected]