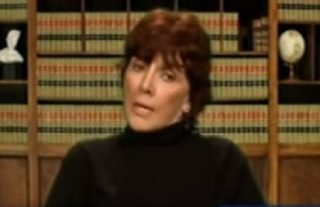 When Bill Clinton was President, Kathleen Willey was one of several women who accused him of sexual misconduct. Willey claimed that President Clinton aggressively pursued her during a private meeting when she was a White House aide in 1993. But in an interview with the Washington Examiner, Willey wasn't focused on the ex-President. She set her sights on the current Presidential candidate, Hillary Clinton.
"This no longer about Bill Clinton's transgressions or his infidelities or girlfriends or sex," Willey said. "What it's about is the actions that his wife has taken against the women that he has raped and assaulted."
"Hillary Clinton's been calling me a bimbo for 19 years, as well as Paula [Jones] and Juanita [Broaddrick] and Gennifer [Flowers]," Willey said.
Willey testified at a deposition that Clinton tried to put her hand on his genitals, forcibly kissed her, and groped her, but he denied it during a separate deposition. "It did not happen," he said at the time, although he did say he might have kissed Willey on the forehead one time when she was upset.
Her name first entered the spotlight during the Paula Jones case, but she claims she didn't intend to go public. The Drudge Report first mentioned her in connection to Clinton. "Matt Drudge got my name, because Paula Jones' attorneys started looking for other women and I had told some people I trusted, and my name got out there," Willey told the Examiner. "I never had any intention of telling the story of what happened to me. I was forced to." She has since published a book detailing her allegations against the Clintons.
After her story got out, Willey claims that the Clintons hired people to keep her quiet. She said someone broke into her home and her car was vandalized in the weeks prior to her testifying in the Jones case. She says she's been in contact with other women who allege that the Clintons intimidated them to keep them silent. Willey has a website devoted to exposing Clinton scandals, looking for others to tell their stories.
Hillary Clinton had said during her campaign that rape accusers had "the right to be believed," but later removed that line from her website, after opponents called her out for taking on her husband's accusers.
Willey is currently supporting Donald Trump for President, and said she would campaign for him if he wanted.
[Screengrab via Fox News]
Have a tip we should know? [email protected]