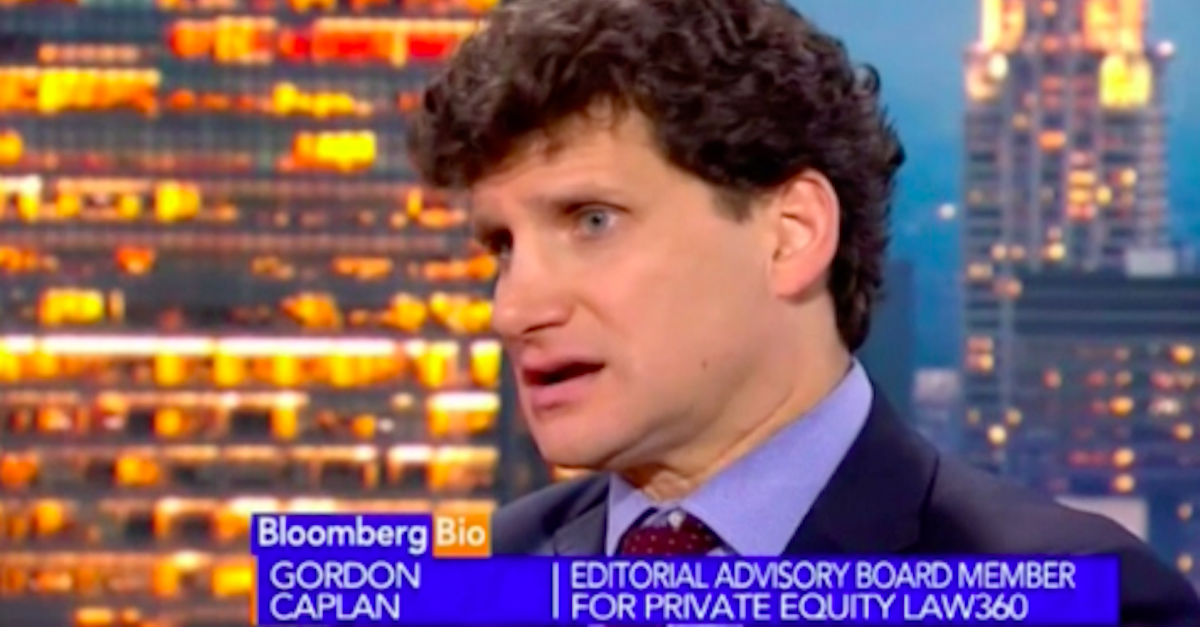 Tuesday morning saw the unsealing of court documents in what the U.S. Department of Justice is calling their "largest college admissions scam ever prosecuted." The allegations detail an operation whereby well-to-do individuals paid to have their kids accepted into leading universities via schemes that authorities say involved cheating on college entrance exams. Some of the parents allegedly involved are household names like actress Lori Loughlin, but another individual is particularly notable in the legal world.
Among the dozens of individuals accused of taking part in the scam is Gordon Caplan, currently the co-chairman of major global law firm Willkie Farr & Gallagher LLP. According to court documents, Caplan paid $75,000 to William Rick Singer's Key Worldwide Foundation, a charity organization that was allegedly used to orchestrate the scam.  He's been charged with with conspiracy to commit mail fraud and honest services mail fraud.
The Justice Department, including a transcript of a conversation allegedly between Caplan and an unidentified party, claims that Caplan paid the money as part of an agreement that would have his daughter declared as having a learning "discrepancy" in order for her to get extended time to take the exam, which she would also be permitted to take at this unnamed person's school, with a proctor ensuring that she got the desired score.
According to court documents, Caplan paid $25,000 before his daughter took the test, and $50,000 afterwards.
According to Caplan's bio on the Willkie Farr website, he is not only the co-chairman of the firm, but a member of the firm's Executive Committee and a partner practicing in their Private Equity Practice Group and Corporate & Financial Services Department. He earned his J.D. from Fordham University School of Law, and a B.A. from Cornell.
Willkie Farr said in a statement obtained by Law&Crime that Caplan has been placed on leave from the firm:
As widely reported, one of our partners, Gordon Caplan, was among the persons charged in the college admissions matter. This is a personal matter and does not involve Willkie or any of its clients. In light of the seriousness of the matter, Mr. Caplan has been placed on a leave of absence from the Firm and will have no further Firm management responsibilities. The Firm will continue to be managed by its Chairmen, Steven Gartner and Thomas Cerabino, and its Executive Committee. Our focus remains on our responsibilities to our clients, partners and employees.
The firm has a major international presence, with offices in Paris, London, Frankfurt, Brussels, Milan, and Rome, as well as American offices in New York, Houston, Palo Alto, and Washington, D.C. They are regularly listed among the top 11 most prestigious law firms in the country by Vault.com, coming in at number 51 for 2019.
Note: This article has been updated with a statement from Willkie Farr & Gallagher.
[Image via Bloomberg TV screengrab]
Have a tip we should know? [email protected]