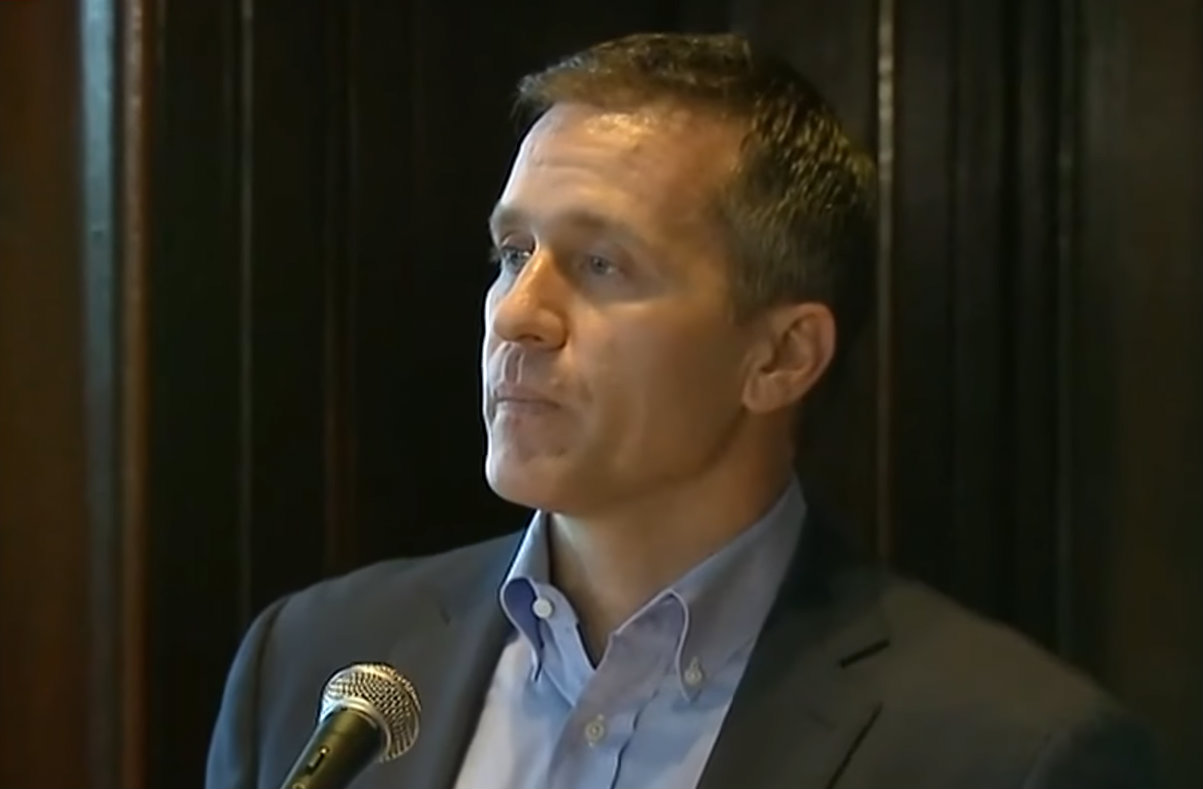 Missouri's Republican Governor Eric Greitens just announced his resignation.
Effective June 1, the resignation is likely to throw the Show-Me State GOP into further turmoil as it attempts to clean up the myriad messes left behind by various scandals that have plagued both Greitens and the Republican Party in Missouri since Greitens took office.
In his resignation speech, Greitens did not directly address any of the numerous allegations against him and his campaign. Instead, he issued a vague series of statements that hinted at one such case. He also complained about his legal bills and an alleged plot against him. In relevant part, Greitens said:
This ordeal has been designed to cause an incredible amount of strain on my family . . . I cannot allow those forces to continue to cause pain and difficulty to the people that I love . . . I know, and people of good faith know, that I am not perfect but I haven't broken any laws or committed any offense worthy of this treatment.
In February, a St. Louis grand jury indicted Greitens on charges of felony invasion of privacy. Those charges were based on Greitens' acknowledged 2015 affair and allegations that he acted untoward in furtherance of covering up said affair.
Greitens is alleged to have blackmailed his mistress by telling her that he would release a nude photograph of her if she ever went public about their affair. The photograph allegedly shows the woman blindfolded with her hands bound.
After resigning, Greitens left the podium to sounds of reporters asking him if he took the photograph. He did not answer their questions.
St. Louis Circuit Attorney Kim Gardner made the following statement when announcing the charges against Greitens:
As I have stated before, it is essential for residents of the City of St. Louis and our state to have confidence in their leader. They must know that the Office of the Circuit Attorney will hold public officials accountable in the same manner as any other resident of our city. Both parties and the people of St. Louis deserve a thorough investigation of these allegations.
Greitens has consistently denied those blackmail allegations, and the charges were ultimately dismissed during jury selection. There was talk in Missouri about a special prosecutor being appointed to re-file those charges but that seems unlikely now.
In April, however, Greitens was indicted for another felony. This time, he was charged with computer tampering over his campaign's alleged used of a charity donor list in violation of campaign finance law.
Early Tuesday morning, Cole County Circuit Judge Jon Beetem issued a ruling against Greitens' political nonprofit, demanding the nonprofit turn over communications and documents believed to show unlawful coordination between Greitens' gubernatorial campaign and the nonprofit group.
Around the same time on Tuesday, a former campaign aide of Greitens gave damaging testimony to a state house committee investigating the governor's dark money scandal.
Hours later, his face red and a bit puffy, Greitens was angrily searching for the exit.
[image via screengrab/CBS]
Follow Colin Kalmbacher on Twitter: @colinkalmbacher
Have a tip we should know? [email protected]