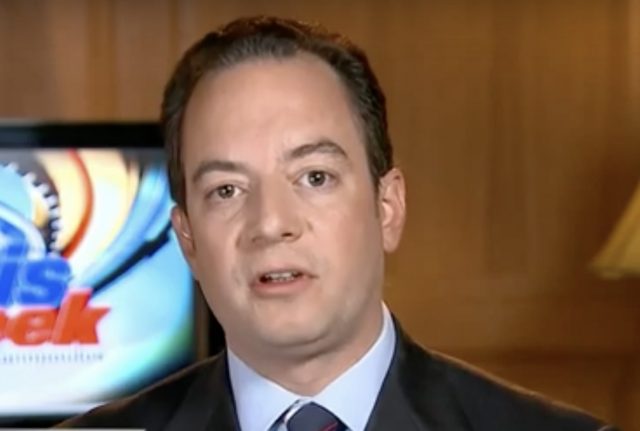 An ethics attorney has filed a complaint against White House Chief of Staff Reince Priebus, accusing him of a "corrupt attempt to influence investigations by the United States Federal Bureau of Investigation ("FBI") into criminal activity involving associates of Donald J. Trump ("Trump") and Russian government."
The complaint was filed by J. Whitfield Larrabee, a Massachusetts attorney, who is no stranger to filing ethics complaints against the Trump team.  During the campaign, Larrabee filed bribery complaints against Trump and then-Florida Attorney General Pam Bondi over donations Trump gave to the Bondi campaign around the same time she decided not to join other attorney generals in bringing fraud claims against Trump U.  Trump ended up paying an IRS fine to settle the allegations surrounding the alleged illegal donation.
The bar complaint filed against Priebus, who is a licensed attorney in Wisconsin, revolves around an incident where Priebus allegedly contacted and communicated with FBI Deputy Director Andrew McCabe and FBI Director James Comey about an investigation into the Trump administration and its possible ties to the Kremlin.  During these alleged conversations, Priebus apparently unsuccessfully tried to persuade the FBI to essentially shoot down a New York Times story claiming that the Trump Campaign had numerous conversations with Russian officials during the election.
The complaint goes on to accuse Priebus of engaging in a corrupt act that is against longstanding DOJ guidelines and ethics rules.
"Priebus' corrupt communications implicitly threatened Comey and McCabe with termination of their employment because Trump has the power to remove McCabe from his position as Deputy Director of the FBI and to remove Comey from his position as Director of the FBI if they do not comply with the requests of the President as communicated through his agent and Chief of Staff," the complaint states.
It also alleges sufficient evidence exists to possibly charge Priebus with Obstruction of Justice and an attempt to impede a legitimate criminal investigation.
At the very least, Larrabee believes the complaint provides sufficient basis for the Wisconsin Office of Lawyer Regulation to act and possibly strip Priebus of his license to practice law.
There is no timeline for whether the Wisconsin Bar will act and it is unlikely Priebus will address the matter.  LawNewz reached out out to the White House and we will update this story as necessary.
READ the Complaint:
Reince Priebus Complaint Package by LawNewz on Scribd
Have a tip we should know? [email protected]